For DOD, 2023 is all about proving it can build a tactical cloud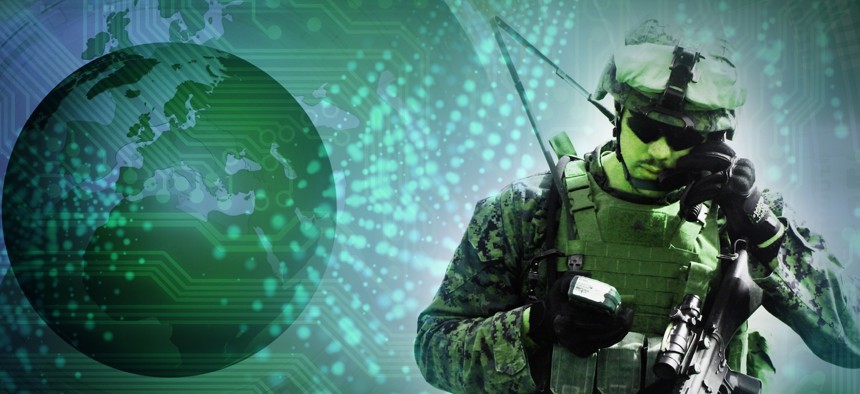 The Defense Department's cloud plans are extending beyond the continental United States in 2023, according to a top IT official.
The Defense Information Systems Agency wants to develop a prototype for OCONUS cloud, which could be on a ship in the middle of the ocean, on an island, or in sub-Saharan Africa, in the first half of next year, said Sharon Woods, the director for the agency's Hosting and Compute Center.  
The Defense Department will need connectivity and data tools wherever the fight is, so it can keep up with China. To do so, it will need cloud architecture.
"It's a big effort, but we have to be able to scope it to something that we can deliver in six months, learn from that, and then expand the capability that we develop. So that's really my big focus right now: OCONUS cloud," Woods said.
The Pentagon has been in the midst of seismic digital modernization shifts that rely on enterprise cloud capabilities. But for commanders to use data and artificial intelligence tools, that connectivity has to extend to the battlefield—where connectivity can be spotty or non-existent. 
"Cloud provides a standardized underpinning for data to be hosted and for data to be portable and moved around, So if we have OCONUS cloud in place, and we're able to provide hosting and compute as a global fabric, now, efforts like [Joint All Domain Command and Control] can access hosting and compute wherever they are," Woods said. 
The OCONUS cloud will lean on services provided by the newly awarded Joint Warfighting Cloud Capability and DISA's private cloud offering, Stratus. 
That hybrid cloud environment, which supports multiple classification levels, could help alleviate some of the anticipated connectivity challenges in the Indo-Pacific region, where DISA is considering placing a piloted prototype. 
The war in Ukraine has shown that "you cannot assume communications are going to be available, even in Europe," Woods said. "Any environment can become deprived of communications, or at least just have latent, slow communications. And so there's urgency in being able to deploy a global fabric of hosting and compute so that we're prepared."
For tactical clouds to work in environments with low or no connectivity, DISA will create "local cloud regions" worldwide as part of its OCONUS cloud effort.
"Those regions have to be able to operate even if they're disconnected from the rest of the cloud environment. And then tactical-edge capabilities kind of hang off of that, so that you can take your hosting and compute deeper and deeper in theater," Woods said.
Providing cloud computing to where commanders and soldiers are in the midst of a conflict, however, is just a piece of what OCONUS cloud means, Woods explained, adding that  OCONUS cloud as a whole "includes Europe and Hawaii and everything." 
"World events pressurized the need for it. And JWCC, through the tactical-edge capabilities, will definitely be instrumental in meeting the OCONUS cloud needs," she said.
One of the main benefits of expanding cloud capabilities with JWCC in the equation is increasing the number of defense organizations and mission partners that use software development tools, authorize accounts and build cloud environments with automated tools using infrastructure-as-code. 
"With infrastructure-as-code," Woods said, "we partnered with commercial cloud providers to develop the baselines, and people have been using the baselines with their own contracts. But once JWCC is available, it just makes it so much easier for people to get a cloud contract in place and then they can consume the infrastructure as code baseline."
JWCC follows the failed and controversial Joint Enterprise Defense Infrastructure contract. When the deal succumbed to legal challenges, military services pushed to fill their cloud needs without it. The new $9 billion contract taps four major cloud providers—Amazon Web Services, Google, Microsoft, and Oracle—and promises to be a best-value option. 
"One of the things that JWCC brings to the table," Woods said, "it's filling that gap for all classification levels and out to the tactical edge. And that scope isn't met by any contract right now. Not the full scope, and not on an enterprise basis for the entire department."