The Army eyes finish line for Microsoft Office 365 migration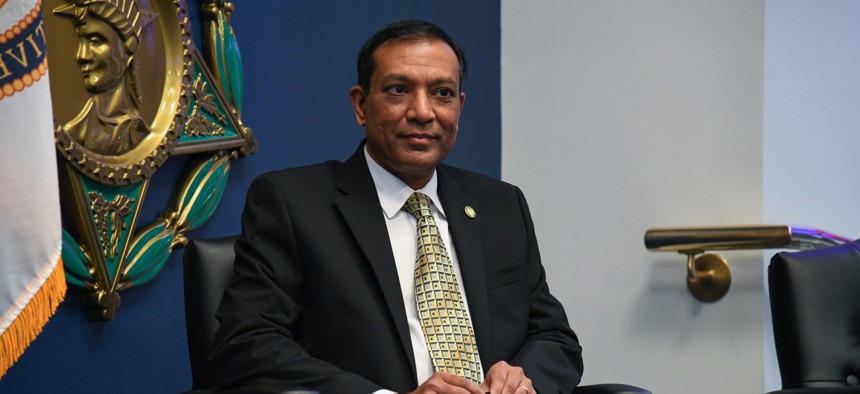 By 2025, Army personnel should be able to work from just about anywhere duty calls through virtual desktops, according to the military service's chief information officer. 
Army CIO Raj Iyer said the service has been making strides to expand its cloud-based capabilities globally, particularly through its rollout of Army 365, which is the service's version of Microsoft Office 365. 
"And there were a lot of naysayers that said hey, you know, this is never gonna work, this is a [continental United States]-based [software-as-a-service] offering, never going to work in Korea. Well, two weeks ago, I was in Korea, and I was able to get into my Army 365 like I was here at home," Iyer said April 14 during a FedScoop event. 
"And so that is how we were optimizing our transport, we're optimizing the infrastructure to make sure that we can indeed deliver cloud-based services from [the continental United States to] anywhere in the world, globally. So again, huge, huge part of how we're, we're transforming."
But so is expanding virtual desktop infrastructure, which can allow users to access their work data from an approved device using cloud computing. 
"If you really want to truly make cloud ubiquitous and easy to access, we've got to make sure we implement VDI," Iyer said. 
The Army is currently working to implement virtual desktops on its classified network, Secret Internet Protocol Router Network (SIPRNet) and plans to roll out the capability to 150,000 "super users." The goal, he said, is to have VDI available for both classified and unclassified users by 2025.   
"I fully expect that in the next two to three years we will [have] 100% virtual desktop infrastructure for unclassified and classified across the Army," Iyer said. 
The Army has been building up to this in recent years, solidifying its plans on paper with a digital transformation strategy last year, which includes improving user experience and embracing telework-friendly technologies, such as bringing your own approved device. 
Iyer said that was key "because if you truly want to make this easy for the warfighter, we've got to make sure we give them the right tools in their hands to improve that user experience." 
Moreover, the CIO predicted that the service was approximately halfway done with its digital transformation journey with scaling across the Army being one of the final hurdles. 
"We don't want to turn cloud implementation to just be a headquarters type implementation. We really truly want to democratize this. So I have empowered all our divisions and corps to be able to go out [and] experiment," Iyer said. "There is no other way we can win a future fight if we're not successful with this path that we're on."