Former Pentagon no. 2 named head of defense industry group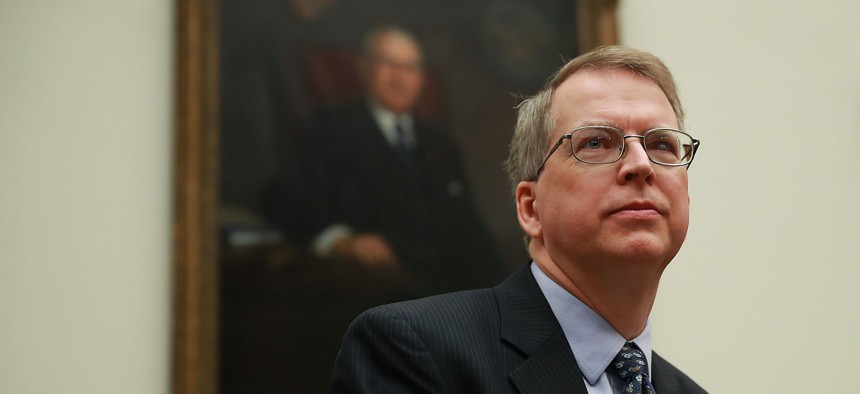 The National Defense Industrial Association has appointed David Norquist, a former Trump administration deputy defense secretary, as its new CEO following a clash between the trade organization's previous leader and its board chairman.
Norquist, who also served as the Pentagon comptroller and acting defense secretary for the first three days of the Biden administration, will take over May 1.
"We've selected a strong leader at a time of great challenge in the defense marketplace," Arnold Punaro, NDIA's chairman, said in a statement. "With his proven experience and accomplishments in our industry, the legislative branch, and two of the largest, most complex federal government organizations, David is capable from day one to continue enhancing the industry-government relationship that is essential to supporting the warfighter and the taxpayer. He will also continue NDIA's strong tradition of nonpartisan leadership." 
The organization's announcement of Norquist's appointment did not make any reference to outgoing CEO Herbert "Hawk" Carlisle, a retired Air Force general who has led NDIA since June 2017.
In early March, Carlisle said he would leave the organization amid disagreements with Punaro.
"It's his leadership style and the governance and direction for NDIA, [and] him and I could not find common ground," Carlisle told Defense One on March 4. "It just ended up being a case where I needed to leave."
Carlise said there was not one particular policy issue on which the parties clashed. 
"There ought to be pretty definitive roles and responsibilities," Carlisle said. "I think the governance and the bylaws need to be pretty tight in organizations, and I think NDIA ... is working on that."
Politico first reported Carlisle's departure over disagreements with Punaro.
The NDIA board is made up of a mix of consultants, former defense officials, and industry executives. By comparison, the Aerospace Industries Association board is composed mostly of C-suite executives.
NDIA and other trade associations have been conduits between defense companies and the Pentagon on major policy issues. This has very much been the case throughout the coronavirus pandemic. The trade groups are oftentimes voices for smaller companies and suppliers who, unlike their multibillion-dollar counterparts, don't have representation from in-house and outside lobbyists.
Over the past year, there have been divisions among the groups' members over federal contractor vaccine mandates. The mandate has been tied up in the courts and is not being enforced.
Eric Fanning, the CEO of the Aerospace Industries Association who served as Army secretary and Air Force undersecretary during the Obama administration, welcomed Norquist's appointment.
"The addition of another great leader to the industry association family only makes our members' voice stronger," he said in an emailed statement. "We look forward to working with David."
Fanning also celebrated Carlisle.
"Hawk and I worked together for years at the U.S. Air Force and in support of the defense industrial base," Fanning said. "He's been a great partner, and I'm looking forward to seeing what he does next."