Cyber and future defense budgets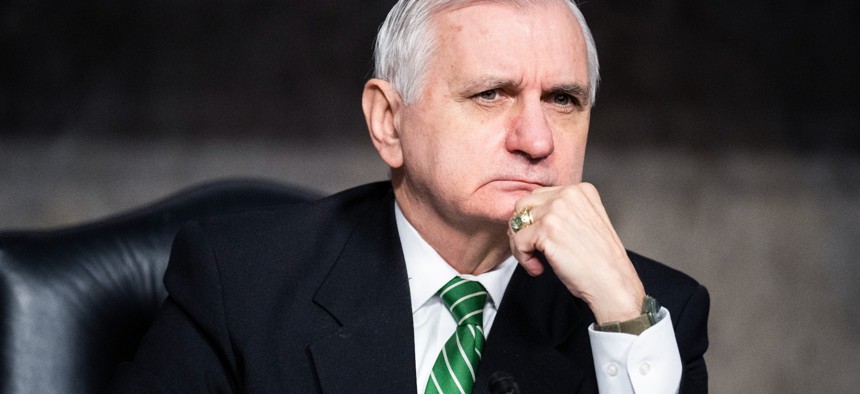 Cyberspace operations will assume a bigger share of defense budgets in 2023 and beyond, according to a top lawmaker. 
"Cyber is actually becoming one of the most critical aspects of the battlefield. And one of the areas we have to look at very closely is maintaining and strengthening the cyber teams, that General [Paul] Nakasone [the commander of U.S. Cyber Command] has," Sen. Jack Reed (D-R.I.), the chairman for the Senate Armed Services Committee, told reporters Wednesday during a Defense Writers Group event.
Because cyber teams are relied on to develop tools and penetrate adversaries' systems, having the right number of them is key. That means future budgets may have to account for "inducements" to attract and retain talent with the right skills to keep those cyber teams working optimally, Reed said. 
"We're competing with very lucrative jobs on the outside for people with these types of skills. So that's going to require, if necessary, inducements to stay in the service – and for a long time." 
Other priorities, he said, include encryption and quantum computing. Reed said the U.S. is currently "in a race right now with our near peer competitors in quantum to …get the scientific, theoretical and practical aspects of quantum so that we can start using it before our opponents."
Gearing up for 2023 budget fight
Ahead of the president's 2023 budget release, Republican lawmakers have already made it clear what they want – about $40 billion or 5% more than last year's $778 billion topline plus inflation costs, according to a March 23 letter led by ranking members of the Senate and House Armed Services Committees, U.S. Sen. Jim Inhofe (R-Okla.) and Rep. Mike Rogers (R-Ala.), respectively. 
Reed told reporters that the budget should be driven by current threats and "sound strategy," not the other way around. 
"One of the problems is that, too often, we just pick a number rather than say, well, this is really what we have to do, and these are the priorities. And as a result, we sometimes don't put the type of effective incentives in the budget so that the Department of Defense can make and will make decisions that are effective for national defense and also can save dollars."
Reed also said that the holding onto legacy systems is a "persistent problem" that lessons from the ongoing military conflict with Russia and Ukraine could illuminate. 
"And we've been learning a lot in the last few weeks from what in a fight against a conventional power, what you really need, and I hope to take these lessons and apply them to the budget," he said.
The Biden administration has not yet released its National Defense Strategy or National Security Strategy. The administration's FY2023 budget request is expected to be released on March 28, but the more detailed defense budget documents won't drop until mid-April.