Multibillion Army headset program is 'alive and well' despite delays, secretary says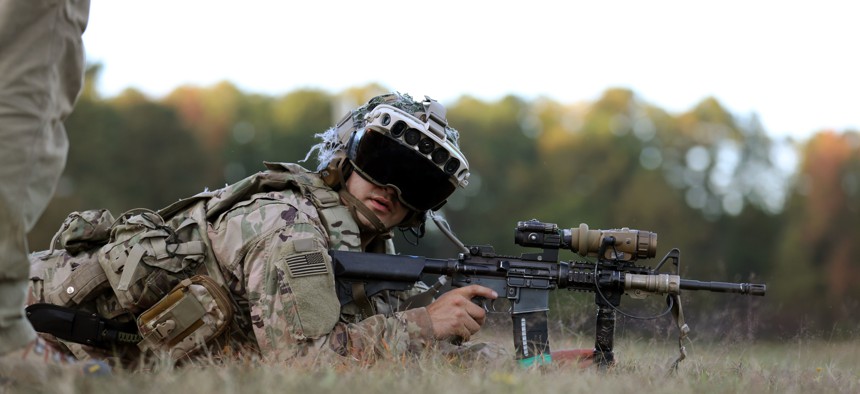 Army Futures Command's most high profile program is still in the works, despite delays, the Army Secretary said at a think tank event on Tuesday.
The Integrated Visual Augmentation System (IVAS) program, went from a relatively small other transaction agreement to a potentially multibillion-dollar production deal with Microsoft. The system, which has been in the works for about four years, integrates warfighting functions like radio communications and high-resolution night and thermal sensors. 
When asked about the project at a Feb. 8 event hosted by the Center for a New American Security, Army Secretary Christine Wormuth said despite delays, "IVAS is alive and well."
The Army and Microsoft are currently working through the challenges that Wormuth said involve the headset's display. 
"And really the challenge we're facing right now is a little bit in the visualization of the headset and…the resolution of the imaging and that's really what the delay is about," she said, noting that the first version of IVAS may not be as "streamlined" as the Army ultimately wants but "it's the alpha version and we need to start there."
Future of AFC
Wormuth said that the command is safe from major changes for now, but tweaks to Army Futures Command's structure to keep up with updated needs in the coming years is possible. 
"We're not envisioning any major changes to Futures Command right now," Wormuth said, adding that the organizations that handle Army modernization – Futures Command, the cross functional teams, the program executive officers, and Assistant Secretary of the Army (Acquisition, Logistics and Technology) – generally work well together. 
However, the structure of the cross-functional teams, which are charged with helping craft requirements before they're transitioned to a full Army program, could see updates in future years, she said. 
"By virtue of how AFC was stood up, the cross functional teams are there to work on development efforts before they become programs of record. So over time, years from now, we may well get to a point where we'll do some tweaking of AFC," Wormuth said.
"We may not need all the cross-functional teams that we have now; we may need new cross-functional teams to work on new areas. So I can envision making some changes potentially down the road but right now I think we have to keep the momentum going."
Funding concerns also weigh on the Army's modernization efforts this year. Echoing concerns defense officials voiced to Congress in January, Wormuth said the lack of certainty around fiscal 2022 funding could affect planning the Army's large scale technology demonstration, Project Convergence at Yuma Proving Ground, scheduled for later this year. 
"We are going to have to make some hard choices and everything is on the table," Wormuth said of stopgap funding. 
Moreover, Wormuth said the goal is to keep pace with the efforts, look at each program to determine which ones can go from prototypes to programs of record, while keeping costs in check.
"We really have to find a way to move forward with the six modernization portfolios that we have – air and missile defense, long range fires, network, soldier lethality, and next generation vehicles. The challenge is how do we do that within our budget while we're also needing to take care of soldiers, families, and reinvest in our infrastructure."