Mike Bloomberg named chair of Defense Innovation Board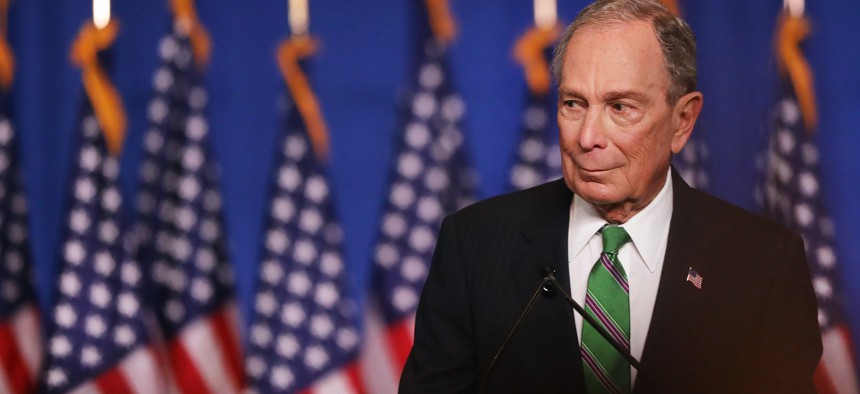 Billionaire and former New York City Mayor Mike Bloomberg has been named the chair of a prestigious Pentagon oversight committee that makes tech recommendations to the defense secretary and other top brass.
Defense Secretary Lloyd Austin wanted "to leverage his experience in strategic insights on innovation, business, and public service," Pentagon Press Secretary John Kirby said of the appointment during a Wednesday press briefing.
"Bloomberg…will bring a wealth of experience and technology innovation, business and government to the Defensive Innovation Board," Kirby said. "His leadership will be critical to ensuring the department has access to the best and brightest minds in science, technology and innovation through the team of diverse experts that he will lead as chair of that board."
Bloomberg is best known as the founder of the financial, software, and media company that bears his name.
"Innovation and adaptability are absolutely critical at any large organization, and there is no organization bigger or more complex than the Department of Defense," Bloomberg said in an emailed statement. "With rapid advances in technology happening alongside rapidly evolving threats to our national security and the safety of our service members, our largest government agency must also be our most forward-thinking. I'm honored to work with Secretary Austin, Deputy Secretary Hicks, other senior Defense Department leaders and innovators from government and business to help bring new ideas and outside perspective that can help protect Americans and our values, interests, and allies around the world."
Former Google CEO Eric Schmidt served as the board's first chairman from 2016 until 2020. Mark Sirangelo, a defense industry executive and scholar, later took the helm.
Early last year, Austin suspended all Pentagon advisory boards' work following the appointment of loyalists to President Trump to many of the panels. The Pentagon re-launched one of these, the Defense Business Board, in September. That panel is chaired by Deborah Lee James, a former Air Force secretary.
Since its founding in 2016, the Defense Innovation Board has issued numerous reports and recommendations that have made their way into Defense Department policy. These have related to establishing a set of principles and best practices for adopting and innovating artificial intelligence; ;recommendations on how to move to scalable, enterprise cloud computing; data accessibility across services; streamlining the acquisition of software; and how to build a more technologically and specifically code-literate workforce within DOD.
The Pentagon has not yet released the names of others appointed to the board. 
Lt. Cmdr. Tim Gorman, a Defense Department spokesperson, told Defense One: "The secretary and senior department leaders are currently reviewing candidates. The secretary's priority is to ensure Michael Bloomberg has a strong team of experts that represent the diversity of America who will provide expert advice to the department. This includes everything from C-suite executives, technology experts, thought leaders, and academics and researchers. The [Defense Innovation Board] website will post updates on members as they are appointed."