F-35 program seeks cyber reinforcements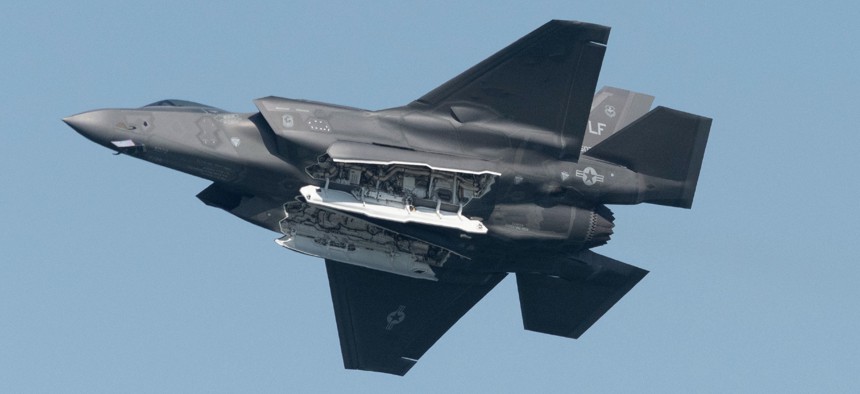 The Defense Department is looking for new ways to gird the F-35 Joint Strike Fighter against cyber attacks and improve the systems' ability to detect and respond to threats. 
According to a recent contracting notice, the program office responsible for the aircraft is looking to create a multi-phased process that would enhance the security of F-35's – and supporting ground systems – through newly developed or integrated technologies, such as real-time, automated in-flight detection, response and recovery.
"Defending against advanced cyber threats is critical for all modern military systems. Adversary methods and techniques continue to evolve thus the ability to adapt and minimize impacts is crucial," the notice states. 
The F-35's joint program office wants to use "new advances in cyber protection capabilities into the F-35 architecture" using "open system design and cyber resiliency principles" so that hardware, software, and firmware can be integrated from different sources and seamlessly updated. 
The solution, according to the notice, could include alerts before, during, or after a flight, as well as "isolating or preventing various attack attempts" without compromising flight safety.
The F-35 has long suffered from software and cybersecurity problems from the code to IT logistics infrastructure. A 2021 Government Accountability Office report advised DOD to update the fighter jet's modernization schedule to accommodate software needs and automatically collect data on software development quality and performance. The notice for cyber solutions also comes as the Defense Department issues guidance on how to best navigate open source software and systems, while adhering to strict cybersecurity standards. 
Future versions of the ongoing F-35 challenge could include a live test demonstration or pilot of the technology on "actual aviation platforms," according to the notice. 
Submissions are being accepted through March 3.