A USAF initiative for the hybrid workplace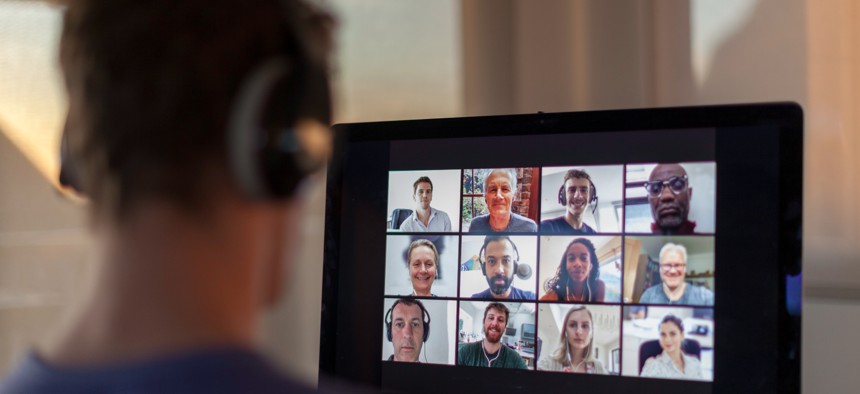 The Air Force Installation and Mission Support Center in Joint Base San Antonio has been transitioning to a hybrid work environment for two years and shrinking physical footprint by almost half in the process as part of an initiative called the "office of the future." Like many other defense and civilian federal government workers, the Air Force has largely been operating in telework status with minimal manning in facilities since the spring of 2020. 
"We said we're not going to go back," Col. Kevin Mantovani, vice commander for the Air Force Installation and Mission Support Center in Joint Base San Antonio said at a recent FCW event. "And for a military colonel, in 24 years, this is something I never thought in my lifetime I would see while in uniform and I helped make it happen with the team here."
The center's hybrid work environment is not fully operationally capable yet, Mantovani said, and is still in the experimental phase. But the goal is to nearly halve its physical facilities transforming and maintaining the remaining space into collaborative and rotating workspaces. 
The Air Force Installation and Mission Support Center headquarters has 10 global locations with approximately 3,900 personnel, Mantovani said, and provides public works, engineering infrastructure, police, construction, libraries, dining facilities, daycare, chaplains and IT services, among other duties.
Mantovani said, before the pandemic, most of those headquarters personnel worked in a "cubicle jungle" where they are largely "typing, talking, meeting," which can be done from home or remotely. Now, personnel are issued a laptop, keyboard, monitor, mouse, docking station which can all go home for those who are approved for telework. And the laptop can come back and forth. 
"In the hybrid model, when you come in, you're going to collaborate. You're going to do teaming-type work that benefits from that synchronization of people being in person," Mantovani said, previously noting that the model isn't fully operational yet, although telework is being  encouraged amid area COVID spikes.
The key has been to encourage workers to do tasks such as email, paperwork, phone calls  and some meetings from home and focus on team engagement when in the building. Telework also dramatically reduced temporary duty travel needs and costs.
The center reduced its physical presence, about 180,000 square feet with 1,100 cubicles, by 40% in the first year. The footprint is now about 130,000 square feet with 300 full time cubicles and 365 "hotels," where personnel can reserve private workspace via a QR code and app. The goal beyond 2022, he said, is for 80% of the space to be for collaboration and hoteling, and three people per cubicle. 
"There's a small percentage of folks that will have permanently assigned offices, but it's not necessarily based on rank," he said. "I'm the second in command at this headquarters and I don't have an assigned office. I will be 'hoteling' in our executive neighborhood."
But fully testing out the hybrid work environment has been delayed  due to the number of COVID-19 cases in the San Antonio area. The first phase for initial operating capability was supposed to start in September 2021, and then in January 2022, Mantovani said. 
The facilities are now minimally manned, but the commander said that once the restrictions are lifted, the center will collect data on how people are using the new space, and seek an app-based, integrated solution that will work with calendars and other tools. 
Developing the future Air Force office environment has had some of the challenges, such as attire in the building versus at home, updating virtual status to show availability, onboarding new employees, and leading virtually. 
"You really have to set performance based criteria for success for your employees, you have to virtually pop in and just sync up, maybe everyday, maybe once a week," Mantonvani said. 
Mantovani said the center is planning to develop training for leading a hybrid workforce, which he suspects could eventually become part of basic training so people know what to expect both as a leader and a remote employee. 
But plans to expand the setup across the joint base in San Antonio haven't materialized yet. 
Mantovani said there are conversations to create "office of the future hubs" across the joint base San Antonio campus, which is shared by the different services and use different networks, to improve communications and collaboration, "but we're not there yet."