DIU boasts more rapid acquisition agreements but fewer new programs in 2021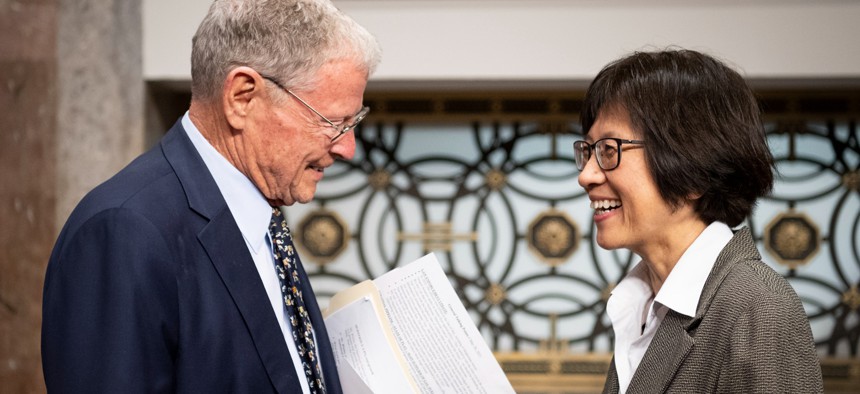 Other transaction agreements, which can help fast-track development of emerging technologies, continue to drive how the Defense Department's innovation arm develops prototypes, but transitioning those technologies into fully fledged programs took a dip last year, according to a recent acquisition report.  
In 2021, the Defense Innovation Unit awarded 72 new prototype other transaction agreement contracts, an increase of about 28.5% compared to 2020. That brings DIU's inception to data OTA awards total to 279 since 2016, according to the agency's report.
The report looks at the agency's work to expand its foothold in its proposals from commercial companies, which amounted to 1,116 bids across 16 solicitations – a marked uptick from 2020. 
Additionally, contract award times decreased to 137 days on average, below 2020's COVID-19 levels, but not enough to meet the 127 day average of 2019. 
DIU transitioned eight technologies covering commercial threat data, cyber asset inventory management, cyberspace deception installation, counter-unmanned aerial systems, modeling for hypersonic missile trajectories and responsive launch. That number is down compared to the 13 moved to the field in fiscal 2020, but it matches the number of prototypes delivered to end users in 2019. Since inception, DIU has completed 44 out of 119 initiated projects yielding a prototype, the report states.
The tech valley of death, where technologies can wither unfinished or unused due to lack of dedicated program funding, is still a considerable obstacle facing the defense industry, particularly for smaller businesses that struggle to bring prototypes to full program funding. 
Heidi Shyu, the undersecretary of defense for research and engineering, whose office oversees DIU, told reporters Jan. 13 that her office is engaging with small companies and with venture capitalists to understand impediments to working with DOD and  is working on strategies on "how to pave over this valley of death or at least build a bridge," which would include developing a mechanism to use venture capital funds among other methods.
For the DIU, the agency's success could mean increased footprint and influence. The recently passed 2022 National Defense Authorization Act gave the defense secretary the power to expand the agency's physical presence nationwide "to accelerate the adoption of commercially developed advanced technology in modernization priority areas" and "expand outreach to communities that do not otherwise have a Defense Innovation Unit presence, including economically disadvantaged communities."
Defense Department partners and DIU have had $892.7 million in contracts and leveraged $20.1 billion in private investments since 2016, according to the report.