Lawmakers tell Biden they are 'extremely concerned' about critical vacant cyber role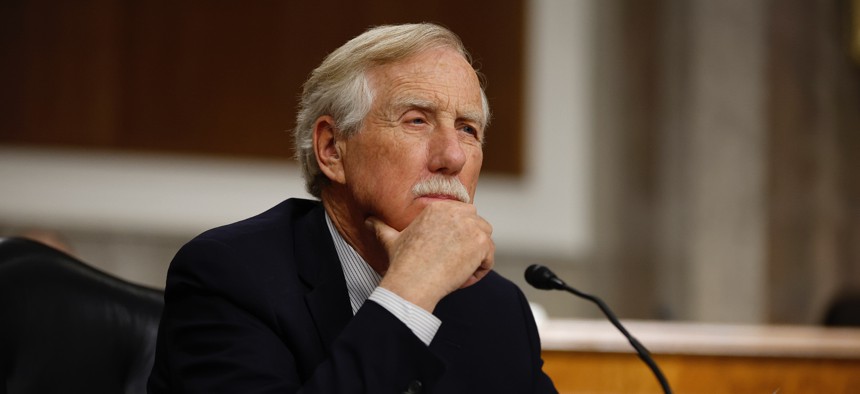 In a Thursday letter to President Joe Biden, the co-chairs of the Cyberspace Solarium Commission urged the White House to nominate a permanent national cyber director, warning that an extended vacancy of the position may "lead to a lessening of the stature of the office."
Sen. Angus King (I-Maine) and Rep. Mike Gallagher (R-Wisc.) said in the letter that they are "extremely concerned that the three-month delay (and counting) in nominating a candidate" may also hinder the implementation of the national cyber strategy released in March. Former National Cyber Director Chris Inglis announced his retirement from government in February after serving nearly two years as the first person to ever fill the cabinet-level role.
The lawmakers also called on the White House to nominate Acting National Cyber Director Kemba Walden, who assumed her role following Inglis' departure, describing her as a "proven, forward-thinking leader who can seamlessly step into the permanent position today."
"We believe the answer to this vacancy is at the ready," the letter said. "Ms. Walden's prior experiences in government and industry give her unique insight into protecting critical infrastructure and fostering public-private collaboration, key pillars of the National Cybersecurity Strategy."
The 35-page strategy, released under the acting national cyber director just a month after Inglis' departure, faces major implementation challenges, experts have told FCW, from a depleted cyber workforce to a lack of consistent federal funding and information sharing between the federal government and industry. 
The strategy seeks to fundamentally shift accountability for cyber resiliency onto major software providers and features plans for a "collective operational defense" between federal civilian executive branch agencies.
When the strategy was released, Walden told reporters that the "biggest, most capable and best-positioned actors in our digital ecosystem can and should shoulder a greater share of the burden for managing cyber risk and keeping us all safe."
Walden previously served as the inaugural principal deputy national cyber director, and before that was assistant general counsel for Microsoft's Digital Crimes Unit. She also served as a co-chair of a White House ransomware task force working group and spent a decade at the Department of Homeland Security. 
"The coordination across the federal government is of the size and scope that demands the leadership of a Senate-confirmed NCD," the letter said. 
The White House has not indicated when it plans to announce a nomination for the vacant national cyber director role.