National cyber strategy faces major implementation challenges, experts say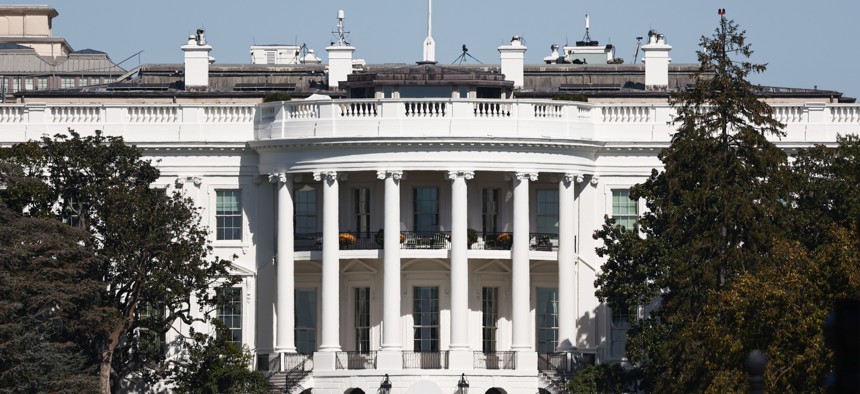 The White House is aiming to fundamentally transform how the federal government approaches cybersecurity with a new national strategy that both seeks to shift from a reactive to proactive posture and pushes for further accountability for software developers.
The new strategy, released Thursday, is the first comprehensive cyber plan issued by the White House since 2018, and acknowledges the emerging risks and challenges across the cybersecurity landscape. 
Cybersecurity experts told FCW the strategy is long overdue and praised the administration's focus on shifting liability to software vendors for vulnerabilities found within their products. But some said the 35-page document lacked critical components that could hamper its successful implementation, namely the necessary funding, resources and talent necessary to effectively secure U.S. interests in cyberspace. 
"I expect the greatest challenges will be funding for implementation, workforce and cross collaboration requirements," said James Hayes, senior vice president of global government affairs at Tenable Cybersecurity. 
He added that he was hopeful the president's forthcoming fiscal year 2024 budget will include "healthy funding allocations" for agencies to implement the new strategy, which calls for defending and modernizing federal networks and updating federal incident response policy.
"These initiatives require both oversight and funding, or carrots and sticks in Washington speak," Hayes said. 
Implementation challenges: A depleted and underfunded cybersecurity workforce 
Even if the president is granted significant additional funding for cybersecurity across the federal government in 2024, agencies still face major challenges hiring the necessary staff to implement the sweeping new policies. 
There are currently 755,743 combined public and private sector cyber job openings in the U.S., according to Cyberseek, a project backed by the National Institute of Standards and Technology. Of those figures, there are more than 45,000 job openings in the public sector for sought after talent. Common sore spots in the arena include a lack of good data on the cyber workforce, limited onramps into the field and retention issues for workers once they are on the job.
The field also struggles with diversity. Online recruiter Zippia estimates that in 2021, around 91% of chief information security officers are men, and nearly 65% white.
A spokesperson for the Office of the National Cyber Director told FCW that an additional strategy focused specifically on cyber workforce issues, first teased last year, is expected to be done by this summer.
Public and private entities will need to work together "to develop the cyber workforce needed to address the skills gap," according to Jim Richberg, former cyber chief for the Office of the Director of National Intelligence and chief information security officer of the public sector at Fortinet. 
Richberg told FCW it is "imperative that the government and private sectors join forces" and said that the new strategy "will help to define goals and roles for a range of audiences, from the federal government to individual users. 
"Systemic resilience is not about a specific technical solution; it's about a concerted effort," he added. "Technology manufacturers and service providers must shoulder more responsibility for system security."
Funding woes: Private sector must make up for gaps in government resources
Despite the workforce challenges, acting National Cyber Director Kemba Walden said her office has the staff and talent to get the job done during a CSIS event on Thursday, with plans to grow the office from a staff of 80 to 100 throughout the implementation process.
"I'm embarrassed at how rich I am with the talent that we have on our staff," said Walden. "We were built with the intent of implementing a strategy as robust and as forward-leaning as this one."
But federal agencies have long lacked the funding and resources to implement already-issued strategies and directives meant to bolster national cybersecurity, while facing looming deadlines to meet requirements featured throughout the Biden administration's zero trust strategy and other cyber-related executive orders. 
What's more, the GOP majority in the House of Representatives has announced its intentions to reduce overall discretionary spending back to fiscal 2022 levels. All this could result in agencies finding themselves tasked with "doing more in the cybersecurity space without a commensurate increase in funding," according to Robert DuPree, manager of government affairs at the cybersecurity solutions firm Telos.
DuPree told FCW the strategy lacks "a more detailed plan on how to implement many of its various components," as well as the "resources to implement it." 
The White House has said implementation guidance was forthcoming. Walden said private sector cooperation and assistance from Congress would be critical in achieving many of the goals outlined in the strategy.
"This is a multiyear, multi-stakeholders opportunity. It's going to take time to get there," he said. "We need Congress' help to get there. We need the software development community to get there."
CISA: A potentially critical resource for agencies implementing the national cyber strategy
Agencies are "disparately resourced" when it comes to cybersecurity, according to Drew Bagley, vice president of privacy and cyber policy at CrowdStrike. But he noted that the continued centralizing of strategic and operational cyber capabilities could be leveraged across government to streamline the implementation process. 
While the cybersecurity strategy was spearheaded by the Office of the National Cyber Director, experts pointed to the Cybersecurity and Infrastructure Agency as a centralized resource for agencies seeking to implement the new strategy with limited resources.
CISA has served as one of those critical centralized components and the nation's cyber defense agency since it was launched in 2018, with a mission to protect the nation's critical infrastructure from cyberattacks. 
CISA has expanded information sharing capabilities between the public and private sectors through initiatives like the Joint Cyber Defense Collaborative and released a steady stream of operational directives and public guidance to help combat ransomware attacks and cyber intrusions. 
"Congress and the administration should embrace CISA's initiatives," Hayes said, pointing to the agency's Binding Operational Directive 23-01, which seeks to improve vulnerability detection on federal networks. 
Tim Meyers, vice president of federal cybersecurity for the IT service management firm Maximus, also said that "collaboration and information-sharing can help agencies pool their resources and achieve greater impact.
"This includes working closely with other agencies, private sector partners and international counterparts to share threat intelligence, best practices and resources," he added.
While implementation challenges surround the new cybersecurity strategy, many experts and cybersecurity analysts expressed optimism about its commitments to strengthen public-private partnerships, expand deterrence efforts and impose greater costs on cybercriminals and foreign adversaries. 
"The National Cybersecurity Strategy is a fantastic way to start clarifying the roles and responsibilities in cyberspace and, in turn, holding the right people accountable," said Rob Carey, former chief information officer for the U.S. Navy and president of Cloudera Government Solutions. "This strategy is likely a multi-year journey and the resources necessary to achieve the goals are not yet defined, but they are the price to pay for entry into the new digital age."
Speaking at the CSIS event Thursday, Walden acknowledged that the strategy is one step in a long journey that will require ongoing cooperation with Congress.
"I'll say about implementation, Congress gave us the authority to be able to lead this coordinated interagency implementation, but we have a lot of work to do, especially when we talk about regulatory harmonization, when we talk about shifting liability, these are multi-year efforts," she said. "We are going to find gaps and Congress will need to lean in to help us get where we need to go. It's a symphony, not a single movement. This is an ongoing process."