U.S. cyberspace ambassador lays out technology's role in geopolitical contests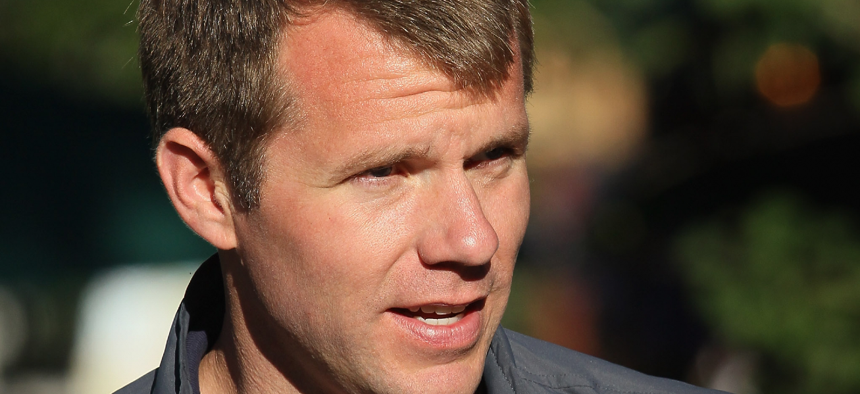 The first U.S. ambassador at large for cyberspace and digital policy set the stage for the future of the State Department as it relates to technology Thursday, including strengthening American foreign policy on cybersecurity. 
Nathaniel Fick, who was appointed to the new post in September 2022, said at a German Marshall Fund event on foreign technology policy that the ongoing war in Ukraine is demonstrative in not only tech's critical role in 21st century conflict, but also international relations. 
"I'll give three examples where I think technology has been a game changer in Ukraine, and where we should think about other places where you can imagine repeating some of these lessons in anticipation of future geopolitical contests," said Fick.
The former CEO of the cybersecurity software company Endgame said that first, Ukraine migrated government enterprises to the cloud prior to the invasion, allowing the Ukrainian government to maintain its functions even in the midst of combat operations.
"That single act enabled continuity of government in Ukraine, enabled the Ukrainian government to continue delivering services to its people after the Russian invasion, and it is a testimony to the power of a cloud-enabled future," he said.
Second, Fick said that the use of satellite communications "changes the game in terms of the relationship between authoritarian governments and their people, or citizens, in conflict zones.
"In terms of access to information. It matters not only in Ukraine, but also in Iran. It matters in North Korea. It matters in Taiwan. We could go right down the list," he added. 
The final piece is the cooperation between public and private sectors when it comes to cybersecurity, which he said has so far helped contain what was thought by many to be one Russia's strategic domains of attack in the conflict. 
​"People have wondered why Russian cyberattacks seem not to have been effective or as effective in Ukraine, or in Europe," he said. "And in Ukraine, one of the reasons is that Microsoft and others were able to push updates at scale in near real time, based on collaboration with the US intelligence community, that allowed them to blunt these attacks. It's not that the attacks weren't happening, it's that they weren't being affected."
In his role leading the Bureau of Cyberspace and Digital Policy, which the State Department launched in April 2022, Fick is charged with helping shepherd U.S. policy on cyberspace and digital diplomacy, including protecting digital infrastructure from international threats.  
His office — which consists of policy bureaus for International Cyberspace Security, International Information and Communications Policy and Digital Freedom — has also focused its efforts on maintaining U.S. technological competitiveness with adversaries like China, including limiting the international influence of the nation's multinational technology company Huawei. 
Fick also stressed the importance of hiring top cyber talent at the State Department, saying that "building a new entity inside a big bureaucracy" requires "attracting great people and rewarding them for their service.
"This has to be viewed as an important path, a path with impact and a path with career rewards if we're going to continue to attract great members of the civil service and the foreign service to do this work," he said.
According to The Washington Post, upon the bureau's launch, there were plans to hire 30 new staffers after initially opening with 60 original employees from across the State Department's cyber and international communication offices. State Department officials weren't immediately available for comment on where the bureau's headcount currently stands. 
Fick also said he was aiming to resolve a lack of coordination and leadership involvement around technology issues at the State Department. The department is in the midst of a massive technology modernization plan, issuing a contract solicitation in December for a $10 billion IT services award that includes cloud and data center, IT management and other services. 
The State Department has meanwhile overseen major distributions of financial funding and support for Ukraine following the Russian invasion while stepping up its cybersecurity efforts, including offering bounties for information that leads to the arrest or conviction of notorious ransomware hackers and cybercriminal organizations. 
"I built a business that interacted with the government occasionally, and [it] never interacted with the State Department," said Fick, referring to his previous role as. "It's important to have diplomacy at the table in policy formulation."