Lawmaker asks CISA to investigate air travel cyber risks following FAA system outage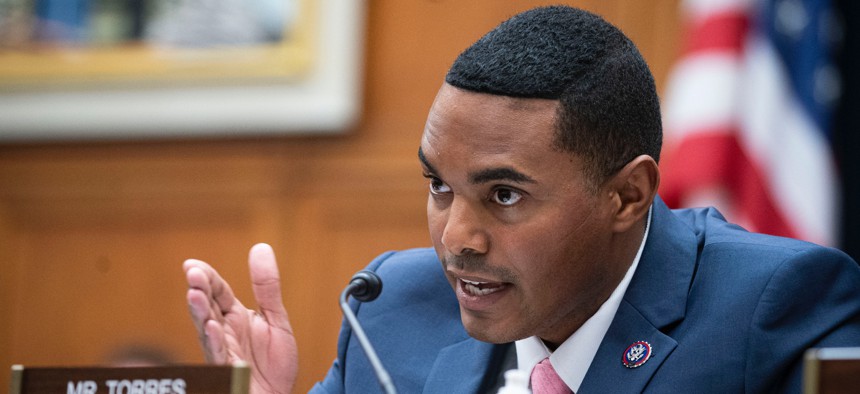 The Federal Aviation Administration system outage that sparked thousands of flight delays and cancellations this week has prompted new concerns about potential cybersecurity risks impacting nationwide air travel. 
In a letter to the director of the Cybersecurity and Infrastructure Security Agency, Rep. Ritchie Torres (D-N.Y.) called on the nation's cyber defense agency and the Department of Transportation to launch a joint review of the potential cyber vulnerabilities impacting systems supporting national air travel, including Notice to Air Missions and Air Traffic Control. 
"Even though the precise cause of the outage has yet to be determined, the breakdown in NOTAM alerts raises concerns about the cyber vulnerabilities of the antiquated systems that undergird air travel," Torres wrote in the letter on Thursday. 
Components of the NOTAM system responsible for alerting pilots about flight safety conditions are as old as 30 years, and the system remains years away from receiving an upgrade, according to reports. 
The FAA was forced to order a ground stop on Wednesday morning and cause thousands of flight delays across the country due to what officials have said was a corrupted file within the NOTAM system.
Department of Transportation Secretary Pete Buttigieg said there has not been an indication that a cyber incident triggered the failure, and has instructed the FAA to ensure additional safeguards are put in place to avoid similar disruptions. 
"At a time when cyberattacks are rising in both scope and sophistication, modernizing the cybersecurity of air travel must be a priority for the federal government," Torres wrote. "20th century air systems will no longer suffice in a world of 21st century cyber challenges." 
President Joe Biden ordered a federal probe into the system outage earlier this week, telling reporters at the time that the cause remained unclear. White House press secretary Karine Jean-Pierre also said there had not been any indication of a cyber attack impacting the NOTAM system. 
Launched in 1993, the NOTAM system runs on a complicated string of codes that have become the subject of concern and frustration throughout the aviation industry, as well as on Capitol Hill. Congress passed legislation in 2018 to improve the system, though it remains unclear where progress stands on those efforts. The FAA and Department of Transportation did not immediately return FCW's requests for comment.
On Wednesday, the FAA said it was "continuing a thorough review to determine the root cause of the Notice to Air Missions (NOTAM) system outage."
"Our preliminary work has traced the outage to a damaged database file. At this time, there is no evidence of a cyber attack," the statement continued.