Former CISA chief warns of 'very chaotic environment' ahead of midterms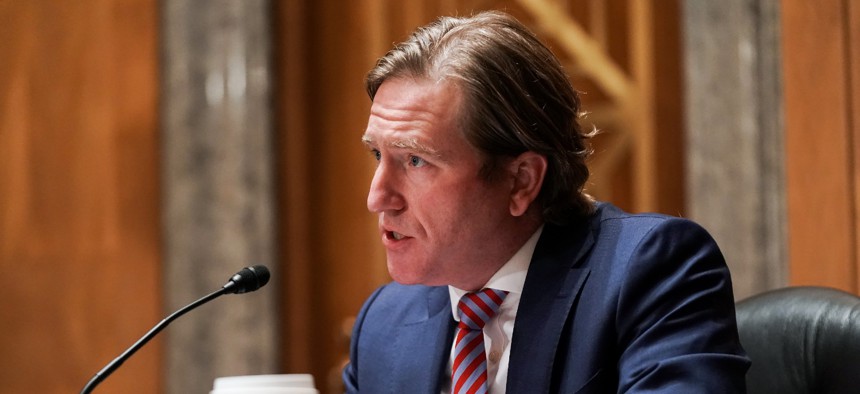 Chris Krebs said those hoping to undermine confidence in U.S. elections may have their best shot yet during this week's midterm vote.
A broad community of cyber criminals and adversaries that seek to undermine public confidence in U.S. elections have "more opportunities probably than ever before" ahead of this week's midterms, according to the former director of the Cybersecurity and Infrastructure Security Agency. 
Chris Krebs, who former President Donald Trump fired from the top post at CISA for refusing to support false claims that the 2020 election was stolen, said recent reports indicate Russia, China and Iran are once again supporting online influence campaigns to disrupt the U.S. election process.
"The area that I'm most focused on right now is the undermining of the legitimacy of American elections," Krebs said on CBS' Face the Nation, adding that foreign actors and cyber groups "recognize that political discourse is very divisive here in the U.S. and they have more opportunities probably than ever before to continue to undermine confidence [and] to create chaos, which is really their primary objective."
Krebs' comments come as Russia reactivates online accounts used in previous campaigns to undermine confidence in the U.S. elections, according to a Nov. 6 report in the New York Times. Additionally, Yevgeny Prigozhin, a Russian entrepreneur with documented ties to Russian President Vladimir Putin, said publicly on social media that "we have interfered, are interfering and will interfere," according to an Associated Press report.
A joint public service announcement CISA and the FBI released last month warned that foreign actors were likely to use information manipulation tactics to undermine confidence in the vote, including by circulating reports of alleged malicious cyber activity targeting election infrastructure.
"We've seen reports lately of Russia, China and Iran back at their old tricks," Krebs said. "And it is going to create a very chaotic environment."
The former CISA director added that online influence campaigns aiming to undermine confidence in the upcoming vote have coincided with GOP candidates across the country who have publicly supported false claims of voter fraud, in addition to the amplification of right-wing media and conspiracy theories across social media. 
Additionally, new Twitter owner Elon Musk's plan to offer verification and other services for an $8 monthly subscription could lead to widespread impersonation and falsification across the digital ecosystem.
The move toward self-service verification "opens the information space to a broader community of influencers, clout chasers [and] election denialists," Krebs said.