A top senate democrat has asked DOJ to investigate missing Jan. 6 text messages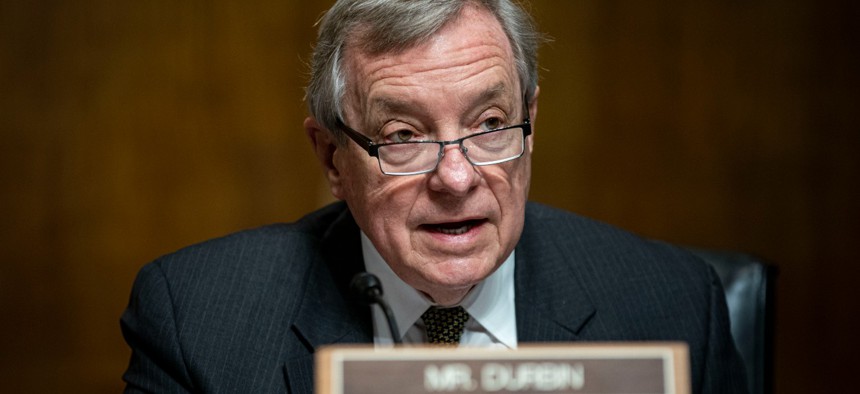 The Homeland Security watchdog has been under fire for its handling of the matter. 
A top Senate Democrat wants the Justice Department to take over investigating the missing text messages in the lead up to the attack on the U.S. Capitol on Jan. 6, 2021. Sen. Dick Durbin, D-Ill., said it's necessary for Justice to get involved because the Homeland Security Department's watchdog has mishandled the probe so far.  
The DHS inspector general office had been under fire in recent weeks for its handling of investigations of missing text messages from Secret Service agents before the Capitol insurrection, and now text messages from President Trump's acting Homeland Security Secretary Chad Wolf and acting deputy secretary Ken Cuccinelli are also missing.
"The destruction of evidence that could be relevant to the investigation of the deadly attack on our Capitol is an extremely serious matter," said Durbin, chairman of the Senate Judiciary Committee, in a statement on Friday. "Inspector General Cuffari's failure to take immediate action upon learning that these text messages had been deleted makes clear that he should no longer be entrusted with this investigation. That's why I'm sending a letter today to Attorney General [Merrick] Garland asking him to step in and get to the bottom of what happened to these text messages and hold accountable those who are responsible."
DHS notified its IG office in late February that Wolf and Cuccinelli's texts "were lost in a 'reset' of their government phones when they left their jobs in January 2021 in preparation for the new Biden administration, according to an internal record obtained by the Project on Government Oversight and shared with The Washington Post," The Post reported on Thursday. The IG office "did not press the department leadership at that time to explain why they did not preserve these records, nor seek ways to recover the lost data, according to the four people briefed on the watchdog's actions. Cuffari also failed to alert Congress to the potential destruction of government records." 
Wolf asserted in a tweet that he fully complied with the law. 
Similarly, the DHS watchdog is being scrutinized for its handling of missing Secret Service texts amid a series of news reports. 
"Cuffari's failure to promptly notify Congress of the Secret Service's months-long refusal to produce text messages that [the Office of Inspector General] had requested in February 2021, or of the Secret Service's belated admission that those text messages had been erased as part of a device-replacement program, calls into question his ability to effectively and objectively conduct the criminal investigation he recently opened," Durbin wrote to Garland. 
The text messages "may provide important insight into the actions of senior Trump administration and White House officials on and in the leadup to January 6," Durbin added. "As such, their apparent deletion is relevant not only to [the Office of Inspector General's] investigation and parallel congressional inquiries, but also to the Justice Department's own commitment to 'hold everyone, anyone who was criminally responsible for the events surrounding January 6, for any attempt to interfere with the lawful transfer of power from one administration to another, accountable.' " 
Additionally, Durbin said that despite "cursory references" to challenges obtaining text messages and other records, Cuffari did not notify Congress about the missing Secret Service text messages until July. 
These references can be found in the DHS IG's semiannual reports to Congress that cover the periods April 1, 2021 to Sept. 30, 2021 as well as Oct. 1, 2021 to March 31, 2022. 
According to The Washington Post and Project on Government Oversight, the DHS IG office prepared a public "management alert" last October to raise concerns about access to records issues, but it was ultimately quashed. That is among the many allegations of mismanagement by the office. 
On July 26, House Oversight and Reform Committee Chairwoman Rep. Carolyn Maloney, D-N.Y., and House Homeland Security Committee Chairman Rep. Bennie Thompson, D-Miss, called for Cuffari to "step aside" from the Secret Service probe and a new IG to take over. This came after CNN reported on July 21 that the DHS IG office told the Secret Service to stop its internal investigation into the missing texts due to an "ongoing criminal investigation." (The Secret Service previously stated that the insinuation that the Secret Service maliciously deleted text messages following a request is false" and that some messages were lost due to a pre-planned data migration).
The DHS IG did not respond for comment by the time of this article's publication. The Justice Department declined to comment.