Biden's executive order sharpens health data privacy following Roe v. Wade overturn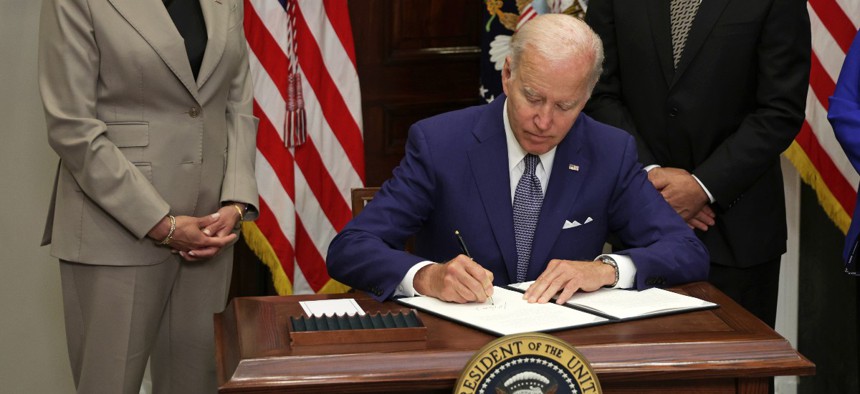 The executive order brings federal enforcement to protecting location and health data, in order to prevent law enforcement abuses.
President Joe Biden announced his intent to sign an executive order on Friday addressing protections for women's health data and the potential for law enforcement exploitation, in the wake of the overturning of Roe v. Wade. 
As states are now free to criminalize abortion and restrict access, many have feared the improper usage of women's health data, such as menstrual cycle tracking available via apps or location data from web searches, could be used as fodder for law enforcement to take prosecutorial action.
While this new executive order also safeguards access to reproductive health care, contraception and the safety of patients, it also explicitly protects patient information privacy. 
"The president's executive order takes additional steps to protect patient privacy, including by addressing the transfer and sales of sensitive health-related data, combatting digital surveillance related to reproductive health care services, and protecting people seeking reproductive health care from inaccurate information, fraudulent schemes or deceptive practices," the order reads. 
The Department of Health and Human Services will be tasked with enforcing these new protections. Additionally, the attorney general and chair of the Federal Trade Commission will also be asked to consider tactics to counter deceptive online targeting and encourage access to accurate information.
New manuals on how to protect individual data using mobile devices like phones and tablets are also available. They review how to secure, hide or delete location data and other privacy features from Apple and Android devices.
"Ultimately, the best way to protect your health and personal information from being collected and shared by your personal cell phone or tablet without your knowledge is to limit what personal information you send and store on or through the device," the manual page reads. 
It notes that the nature of cellular service providers and their connected devices does not permit all location data to be eliminated permanently, and suggests leaving certain devices at home for trips to health care clinics if necessary.
The executive order also highlights the HHS website ReporoductiveRights.gov, which provides resources on current abortion laws.