DOD looks to expand its data partnerships with allies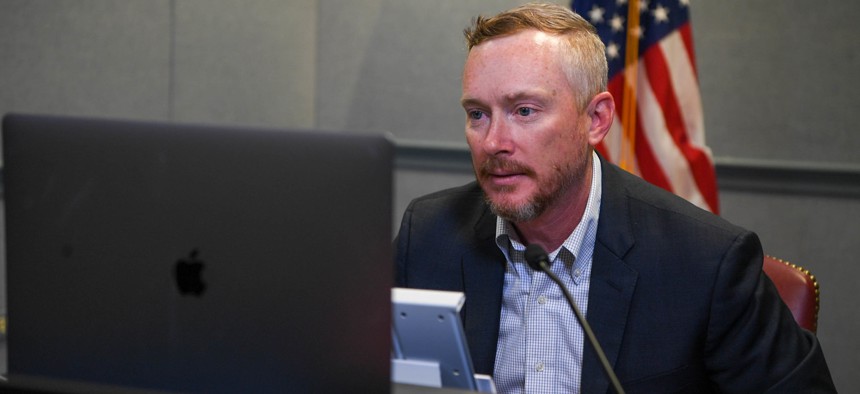 The Defense Department is looking to expand its data partnerships with international allies to improve military operations.
"It's about speed. And if you don't organize your data, if you can't create repeatable, testable and trusted data workflows from the tactical edge all the way up to your senior most decision-making boardroom activities, then you will just lag behind," the Pentagon's chief data officer, David Spirk, told reporters at a Defense Writers Group event on Jan. 5. 
"We've seen this in industry, it's really no different in the strategic competition with other nation-states who have an ability to harness their data, and can access the compute required to actually do something with it."
Spirk said it's been a year since the stand up of an international council of chief data officers' first meeting, part of an intelligence alliance with representatives from the United States, United Kingdom, Australia, Canada and New Zealand called the Five Eyes. 
The partnership allows for collaboration between the countries in developing data management practices, policies and strategies. Spirk said he's watched allies' data organizations mature and has encouraged them to join the Defense Department chief data officers council meetings with its more than 300 data leaders. Additionally, the group plans to have an in-person meeting in the U.S. Indo-Pacific Command's headquarters in February, he said.
Spirk also noted that he was having conversations with some of the North Atlantic Treaty Organization's CIOs around expanding DOD's data management partnerships.
"NATO is beginning to explore establishing their own formal CDO. They've had the activity being conducted from portions of the CIO before, but they're starting to look at what does that formal organization look like, how does it interact with the other counterparts," he said. 
"And I think in establishing that what you'll see across the NATO partners is everybody getting in line and understanding how they're going to go ahead and formalize what we have in the U.S. and across some of our partners."
Retired Gen. James Cartwright, the Atlantic Council's board director and former vice chairman of the Joint Chiefs of Staff, said improving U.S. data sharing with allies should be a priority. 
"If we can start to share unprocessed, sensor data with all of our friends and allies…then we bring to the table one thing that our adversaries can't: diversity. Diversity in scale," Cartwright said during a Jan. 5 event on the next National Defense Strategy and cooperating with allies. "Our allies are our diversity intellectually and in capability."
But expanding those partnerships with allies may also require bolstering the tech industry base. Ellen Lord, the Pentagon's former top weapons buyer, said improving data sharing with allies would require expanding the National Technology Industrial Base (NTIB). 
"I think what we need to do is take that NTIB framework and build it out a bit so that we can, much more easily, export data and technology so that we can build interoperable systems so that we can sell a lot of the systems that we now use in the U.S.," Lord said during an Atlantic Council event on Jan. 5, noting that the U.S. and its allies use different systems often in conjunction with outdated policy laws. 
Lord, who served in the Trump administration, believes that could change in the next two years, especially if there's a call for an expanded framework in the Biden administration's first National Defense Strategy expected early this year.  
"I think there could be specific direction given there, it's very actionable," Lord said. "What I'm concerned about is that we're a year into this administration, we all know the second six months of the fourth year of an administration not much is getting done. So the time is now to really lean forward because the rest of the world isn't waiting for us."