The legacy of the Cyberspace Solarium Commission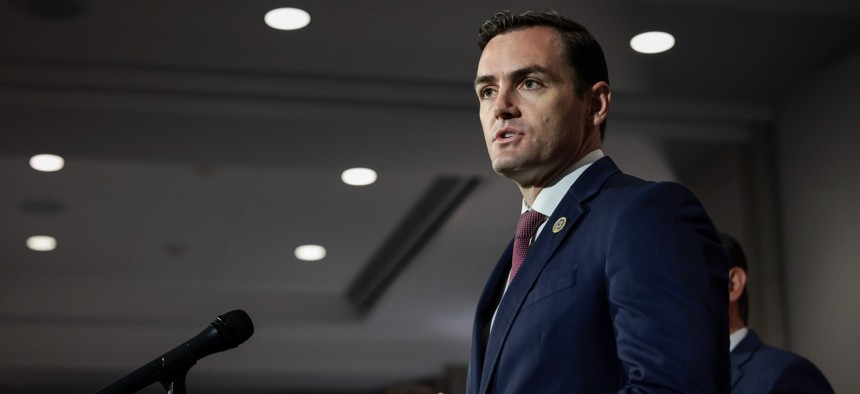 One of the government's key mechanisms for pushing cybersecurity policy in recent years is shutting down. The Cyberspace Solarium Commission was charged in 2019 with sorting through the difficult policy solutions needed to help prevent and prepare the U.S. cyberattacks, is shutting down this month after more than two years and a report to Congress with nearly 100 recommendations that led to a slew of legislative changes. 
But as cyber incidents seemingly increase in number and scale, it's clear that there's more to be done. So, the panel is rebooting its efforts as a non-profit in 2022.
The commission has had several big wins: the establishment of the national cyber director, pushing the release of cybersecurity-focused executive orders, and broadening the authorities of the Cybersecurity and Infrastructure Security Agency.
The National Defense Authorization Act, an annual must-pass defense policy bill, was the prime vehicle used for passing cyber legislation crafted by the commission. But this year, some efforts, most notably a cyber incident reporting requirement that would've given critical infrastructure companies about 72 hours to report cyber intrusions to the Cybersecurity and Infrastructure Security Agency, were left out.   
Rep. Mike Gallagher (R-Wis.), co-chair of the commission, said the near misses in the 2022 NDAA included creating a joint collaborative environment, which would be used to improve intelligence support to the private sector. But that while the formal commission is disbanding, he told reporters Dec. 22 that he's "cautiously optimistic" that "Solarium 2.0" should be able to progress next year.
The commission, which submitted its final report in March 2020, has kept working cyber policy problems from disinformation to supply chain risks, and hopes to pick them up as a non-profit organization. 
"All the low hanging fruit has been picked," Gallagher said. "So only the very difficult issues remain. And where I'm very excited also about Solarium 2.0 is its ability to explore issues that we haven't even begun to think about or explore or write about in 1.0." 
Shaping cyber policy in 2022 
Mark Montgomery, the executive director of the commission, told FCW the new organization will have professional staff, the existing commissioners (minus Chris Inglis who is serving as national cyber director). The goal will be to keep up the momentum and focus on solutions that weren't fully formed, such as challenges with the federal cyber workforce – and other problems that don't have a clear solution. 
"There's three legs to the stool of cybersecurity: there's technology, then there's policy and processes, and then there's workforce," Montgomery said, noting that funding for technology and cybersecurity modernization made it into several pieces of legislation from the Infrastructure Investment and Jobs Act to the America Rescue Plan Act of 2021. "But if we don't get that workforce right, it's really going to hamper us in the long term. And we're not there yet."
Montgomery touched on a long discussed problem in government and the private sector, saying that not only are there not enough cyber workers, but sometimes "we don't always have billets filled with people appropriate for the task. And so that's just something we have to work at." 
Laura Brent, a senior fellow at the Center for a New American Security who specializes in cyber defense policy, technology and national security, told FCW that cyber policy over the next year will likely focus on deterrence and how to measure the successes of any cyber policy.
"Even if there's success of implementation, we still need to see if there's success of impact," Brent said. 
Looking forward and building on the commission's work, Brent said there will be hard questions that need to be answered, such as what the metrics of success and failure look like when defending or responding against cyber incidents. Is failure an organization suffering a ransomware attack or having to pay? Is deterrence effective if cyber incidents persist? What exactly is being deterred?
Brent hopes to see a re-introduction of the cyber incident reporting requirement that was stripped from the recently passed 2022 defense policy bill to help develop a more complete picture of cyber incidents that are occurring, and specific improvements U.S. government shares that information with its allies, and private sector companies. 
"I certainly don't think [mandatory reporting] is a panacea to everything, but given the level of public incident reporting that was seen, it definitely invites questions about how many incidents are occurring that either the public or the government does not know about, which is not necessarily then giving a full picture of the level of threat and activity happening," Brent said. 
Jim Richberg, the field CISO of Fortinet's public sector business, said via email that a proposed Bureau of National Cyber Statistics, another Solarium recommendation, could serve as "a repository" for data on cyber breaches and ransomware attacks and "source for analyzing which cybersecurity controls are effective at preventing damage or aiding recovery." If it materializes, Richberg, who was previously the senior advisor on cyber to the Director of National Intelligence, said the bureau could help stitch together fragmented information that exists on cyber threats. 
But one of the biggest successes of the commission, besides the sheer number of legislative proposals it was able to adopt, may be getting lawmakers and decision makers to care about cybersecurity – something Gallagher said will continue.
"I just think world events are going to demand that members of Congress pay more attention to these issues. And also, I think we want feedback on the things we got passed to see whether they were effective," Gallagher said.