National Guard taking expanded election support role in 2020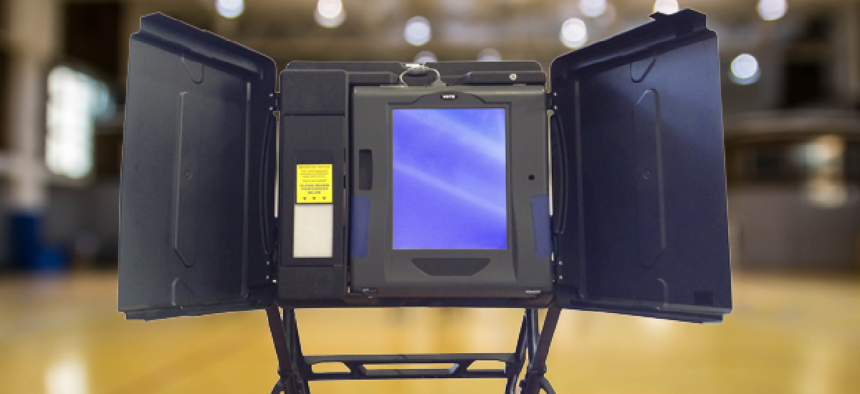 The National Guard has increased its election support duties, especially when it comes to cyber, since 2018. This year Guard units will be on the keyboards and, in some areas, at the polls.
In Washington state, cyber operators are looking for potential intrusions into local election systems and helping organizations with basic network hygiene, such as establishing a baseline of normalcy to better detect anomalies, said Air Force Brig. Gen. Gent Welsh, the Washington National Guard's assistant adjutant general.
Welsh said it's beneficial to have "a military-grade helper" when there's potential nation-state activity. But the Washington Guard's primary role has been providing vulnerability assessments, especially after the state's agencies suffered phishing attacks.
"A lot of this work, and in fact, most of it is done over the shoulder of the secretary of state's team, their own IT staff, [to] teach them how to do these things as well," Welsh told reporters in an Oct. 28 call. "But again, just another extra set of eyes."
Washington state conducts its elections entirely by mail, but plans on having a team to watch election systems throughout Nov. 3 and several days after.
The Tennessee National Guard is also offering subject matter expertise and basic protocols of ensuring software systems are updated across the state, which has 95, mostly rural, counties.
"These counties a lot of times don't have a very deep bench. And so during the elections, they need to kind of surge up with that staff," said Army Maj. Gen. Jeff Holmes, the Tennessee National Guard's adjutant general.
"We've got about a 30-man team, primarily Air Guard, and they have been working through the state," he said. Not every county is getting Guard help in looking for possible intrusions, he added, as some have more robust IT capabilities than others.
Holmes said plainclothed guardsmen also would be at the polls to ensure access to voting facilities.
"It's vitally important to be as transparent as possible with the general public," Holmes said. "I think it would send a bad signal if we weren't to disclose that we have guardsmen in state active duty and what their role was."
Tennessee has seen "a slight" increase in cyber activity support requests this year compared to previous elections, he added.
"Traditionally, we do provide a polling site to our readiness centers, and that has increased, due to the COVID situation," Holmes said. "And the cyber security expertise collaboration actually began last year, [but] it wasn't necessarily focused on supporting elections."
Holmes also said he expects the Tennessee National Guard's outreach to continue in the future.
"We just made a concerted effort to make ourselves available to local and other state agencies that would like to participate in the collaborative table top exercise," he said. "So that's gonna be a regular occurrence. I think that we will continue that."
The growing Guard involvement comes after the Defense Department began teaming with the Department of Homeland Security to protect election system infrastructure during the 2018 midterm elections, following cyber and disinformation interference in the 2016 presidential elections.
The Center for Democracy and Technology warned in October, however, that election security was still fragile and that gaps in local counties' infrastructure could be damaging.
"Even an insignificant breach in a small county can sow misinformation about state-wide or country-wide issues," said William Adler, the CDT's senior technologist for elections and democracy.
DHS' Cybersecurity and Infrastructure Security Agency has led election infrastructure security efforts, bolstering support to states since 2016. On election day, CISA plans to have a virtual war room to aid information sharing between federal agencies, such as the FBI, tech companies, and state and local government officials.
For the National Guard, their efforts have also increased and have gained the attention of Congress. Sens. Maggie Hassan (D-N.H.) and John Cornyn (R-Texas) introduced a bill last month to clarify the National Guard's support role in election system security.
The support extends beyond cyber protection, however. In addition to Tennessee's plans, Nebraska guardsmen are being called in for election support for the first time.
Air Force Maj. Gen. Daryl Bohac, the adjutant general for the Nebraska National Guard, said the state hadn't previously deployed to support elections and polling sites, but this year would have guardsmen -- unarmed and in civilian clothes -- at poll sites.
"This was historic for us. We hadn't previously deployed in state active duty to support elections or support polling sites," Bohac told reporters. "And I think without COVID-19 and the uncertainty that had brought about for all of us, particularly in the early days of the pandemic, it probably wouldn't have happened this year either."
Another first is Wisconsin having National Guards members serve as poll workers, though again not in uniform.
Army Brig. Gen. Robyn Blader, the assistant adjutant general for the Wisconsin National Guard, said Wisconsin hadn't previously served as poll workers, which is permitted by state law. But the COVID-19 pandemic added a "heightened fear" that increased support requests during the primary, state, and local elections in April.
"So any member from the community that's coming into a polling station isn't going to be able to recognize that they are in the guard," Blader said. "They're gonna look like anyone else from the community, because they are the neighbors that are there working in those polling stations."