Qualcomm and Other Pawns of the U.S.-China Tech Spat See Hope After a Weird Trump Tweet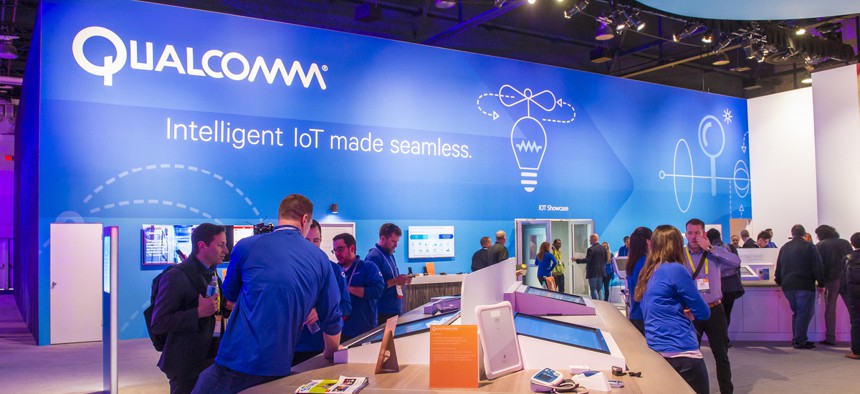 Policymakers on both sides appear to be on their way to making tit-for-tat concessions in the computer-chip industry.
As Beijing and Washington prepare to resume their trade talks this week, one item in particular is taking center stage: the semiconductor.
Policymakers on both sides appear to be on their way to making tit-for-tat concessions in the computer-chip industry, highlighting how the nations' strained ties increasingly revolve around technology, and in particular the microprocessors that power smartphones and other devices.
On May 13, Trump posted another shocking message on Twitter when he announced he would work to save ZTE, a Chinese maker of budget smartphones and networking equipment that's struggling to survive in the face of tough U.S. trade penalties restricting its access to vital semiconductors from San Diego-based Qualcomm. Unusually, Trump lamented the number of jobs the company's collapse would cost China (ZTE employs roughly 75,000 people), a jarring contrast to his usual "America first" messaging.
President Xi of China, and I, are working together to give massive Chinese phone company, ZTE, a way to get back into business, fast. Too many jobs in China lost. Commerce Department has been instructed to get it done!

— Donald J. Trump (@realDonaldTrump) May 13, 2018
China and the United States are working well together on trade, but past negotiations have been so one sided in favor of China, for so many years, that it is hard for them to make a deal that benefits both countries. But be cool, it will all work out!

— Donald J. Trump (@realDonaldTrump) May 13, 2018
ZTE employees were pleased, praising Trump's messages on Chinese social media.
About 12 hours after Trump's first tweet, Bloomberg, citing unnamed sources, reported that China's commerce ministry will speed up its regulatory review  of Qualcomm's planned acquisition of Netherlands-based NXP. The U.S. chipmaker already has a green light from eight of nine required global regulators, but still needs it from China. Beijing has long postponed approval of the deal, which would give Qualcomm critical inroads into the automotive sector.
Last month the U.S. Commerce Department ordered all U.S.-based suppliers to cease selling components to ZTE, citing the Shenzhen-based company's failure to comply with a plea agreement it made when it was caught violating sanctions against North Korea and Iran. That effectively crippled the firm, which announced last week it had suspended major operations. ZTE relies heavily on chips from Qualcomm, one of the only companies that can provide the microprocessors capable of powering its devices, and the source for over 50% of its CPUs.
The U.S. order served as a rallying cry for Beijing, long determined to become less reliant on foreign technology. As part of its "Made in 2025" plan, the country intends to increase its domestic supply of core components and materials used in manufacturing to 70%. Beijing is also backing a government-led $47.4 billion fund to finance China's homegrown semiconductor companies.
A "deal" between the U.S. and China might be reached in which ZTE can stay in business and Qualcomm can acquire NXP. If that happens, on the surface, it might seem as though both sides are averting a deeper fallout. While ZTE violated sanctions and was punished fair and square, some might argue that crippling a 75,000-person company will only spur Beijing to take retaliatory actions against U.S. companies like Apple, which relies on China for about 30% of its revenue and much of its manufacturing. Qualcomm, NXP, and ZTE did not respond immediately to Quartz's request for comment.
While the U.S. maintains a lead over China in semiconductors, that's just one part of the global tech industry. China is also set on becoming a leader in artificial intelligence and 5G, key sectors where its companies are already quite competitive. Recently, Washington has taken measures to keep many Chinese tech companies out of the U.S., often citing "national security" as the main concern. Regulators are mulling legislation what would throttle more Chinese acquisitions of U.S.-based companies, particularly in the tech sector. And since 2012, the U.S. has steadily urged carriers not to do business with Huawei or ZTE due to concerns about ties to the Chinese Communist Party. Recently the U.S. Federal Communications Commission voted unanimously to forbid rural telcos from purchasing equipment from them.
The U.S. might increasingly find itself facing a choice: Adopt Chinese technology and risk compromising "national security," or reject Chinese technology and risk reciprocal pushback from Beijing—say, in the form of increased protectionism, or punitive measures against U.S. companies. And while Xi might be willing to make some concessions here and there, no deal will convince China to slow down its tech ambitions.