FCC Aims to Ban Some Companies from U.S. Supply Chains, Citing National Security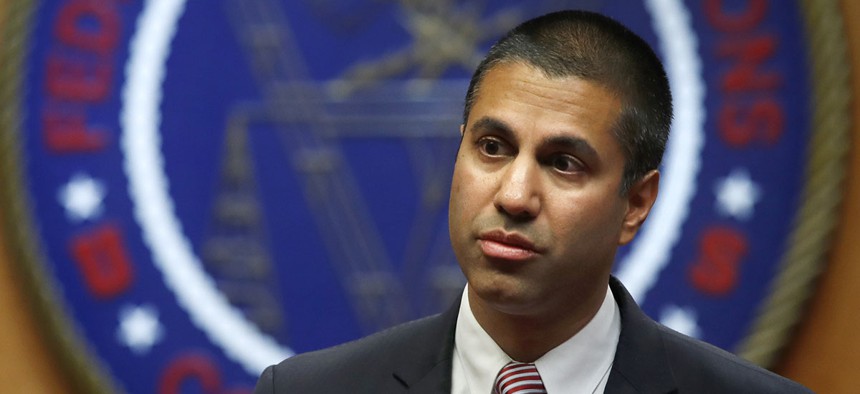 The Federal Communications Commission may deny federal money to telecoms and wireless internet providers that use Chinese products that lawmakers fear might make it easier to spy on or steal data from Americans.
The proposed rule would deny money from FCC's Universal Service Fund "to purchase equipment or services from companies that pose a national security threat to United States communications networks or the communications supply chain," according to a statement from Chairman Ajit Pai.
The full notice of proposed rulemaking will be released tomorrow, Pai said in a tweet.
Commissioners will vote on the proposal April 17, according to the statement.
Among the banned companies would likely be the Chinese firms Huawei and ZTE. Lawmakers and intelligence officials have recently raised alarms about the firms' ties to the Chinese government and the possibility they could include hidden backdoors that make it easier for Chinese spies to hack into U.S. systems.
Sens. Tom Cotton, R-Ark., and Marco Rubio, R-Fla., have introduced legislation that would bar those companies from the supply chains of U.S. government contracts. Rep. Michael Conaway, R-Texas, has introduced a companion bill in the House.
Pai told lawmakers in a March 20 letter that he shared their concerns about the companies, according to a Reuters report.  
"Hidden 'back doors' to our networks in routers, switches—and virtually any other type of telecommunications equipment—can provide an avenue for hostile governments to inject viruses, launch denial-of-service attacks, steal data, and more," Pai said in Monday's statement.
"Although the FCC alone can't safeguard the integrity of our communications supply chain, we must and will play our part in a government- and industry-wide effort to protect the security of our networks," he added.
The FCC's $8.5 billion Universal Service Fund provides money to lower the cost of telephone and internet service in high-cost areas and to expand services to rural and low-income areas.
The telecom industry group USTelecom reacted cautiously to the announcement, saying the organization looks forward to reviewing the full notice of proposed rulemaking and pledging to "continue working with the FCC and other agencies to address supply chain vulnerability issues."