Justice Department Takes Drug War to Dark Web Markets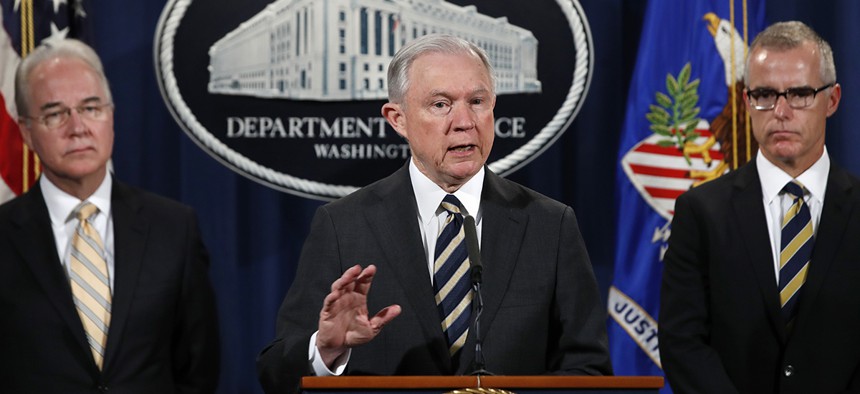 Officials shut down a massive online drug market and warned criminals that they can't hide behind anonymized tools.
Justice Department, FBI and Drug Enforcement Administration officials announced the takedown Thursday of AlphaBay, a dark web marketplace trafficking in drugs and child pornography that officials said was 10 times larger than the Silk Road marketplace law enforcement dismantled in 2013.
More than 40,000 vendors offered 250,000 listings for drugs and 100,000 listings for other illegal goods, including malware, officials said. The site had more than 200,000 users.
Major drugs traded through the site included heroin and the prescription drug Fentanyl. The dark web refers to shadowy portions of the internet that are only accessible with special software configurations and are not indexed by search engines.
» Get the best federal technology news and ideas delivered right to your inbox. Sign up here.
The shuttering was a novel collaboration between the FBI's cyber crime division and divisions focused on violent crimes, crimes against children, money laundering and other criminal activities, acting FBI Director Andrew McCabe said.
"We're working to fill that gap—the gap between computer intrusions that target our data and technology and traditional crimes facilitated by technology," McCabe said.
Attorney General Jeff Sessions described the dark web marketplace, which vendors and customers typically enter using online anonymizing tools such as Tor, as an example of criminals "going dark."
That's a phrase former FBI Director James Comey and other law enforcement and intelligence officials typically used to describe encryption tools, which obscure the content of a message. By contrast, people using anonymizing tools often communicate openly but with their true identities obscured.
The site also relied on cryptocurrencies including bitcoin, which users can trade anonymously.
"This case … says you are not safe; you cannot hide; we will find you, dismantle your organization and your network and we will prosecute you," Sessions said.
The Wall Street Journal first reported that AlphaBay was offline last week. The delay in the announcement was part of a scheme between U.S. and European officials, Europol Director Rob Wainwright said.
European law enforcement had secretly seized a separate dark web marketplace, Hansa Market, and was tracking vendors and customers on the site, Wainwright said. When U.S. officials shut down AlphaBay, their European counterparts tracked AlphaBay users who flocked to the alternate site, he said.
Officials also shut down Hansa Bay this week after an eight-fold user jump, he said.
AlphaBay operator Alexandre Cazes, a Canadian, was arrested in Thailand earlier this month and apparently committed suicide in prison, according to a Justice Department press release. Federal prosecutors in California have filed a civil forfeiture complaint to seize Cazes' ill-gotten gains, officials said.
Sessions and other officials cut short the press conference announcing the takedown after two questions, both of which focused on President Donald Trump's criticism of the attorney general and Deputy Attorney General Rod Rosenstein in a recent New York Times interview.