Lawmaker: Cyber National Guard Could Fill Federal Workforce Gaps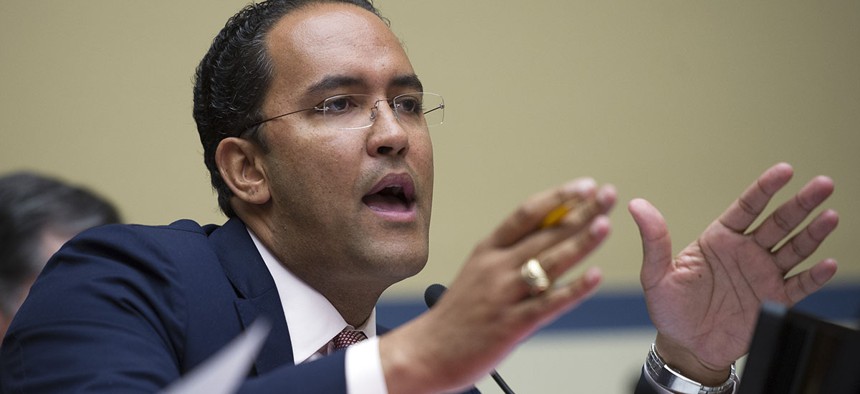 A "cyber National Guard" might be the best answer to helping fill more than 10,000 vacant IT-related positions across the federal government, Rep. Will Hurd, R-Texas, said Wednesday.
As his IT reform legislation waits for Senate action, Hurd told the GovProtect17 security conference in Washington that he'll next lend his support to a bill that would create a National Guard for cybersecurity.
"It's simple," he said. "If young people in America want to get a degree in cybersecurity, we're going to help [them] find some scholarships. If you get it, we're going to have you work for the federal government. After you go back to the private sector, we'll loan you back to the government for one or two weeks per year."
» Get the best federal technology news and ideas delivered right to your inbox. Sign up here.
Hurd and Rep. Ruben Gallego, D-Ariz., first discussed the concept publicly together at the SXSW conference in March, and both have since championed the idea among Congressional colleagues.
A cybersecurity reservist group might be called upon during tech-related disasters or large-scale cyber incidents, Hurd said, but the most significant importance might be attracting perhaps thousands of new cybersecurity professionals to the federal workforce.
The workforce cyber shortage isn't just a numbers issue, the Government Accountability Office included federal cyber issues on its 2017 high-risk list. The public sector generally can't match salaries offered by private-sector firms to top cyber talent, and even agencies historically attractive to cyber personnel—like the National Security Agency and Defense Department—face shortages. Fewer talented people equate to more potential risks from outside threats, like bad actors and nation-states.
Yet Hurd said the shortages are more pronounced among civilian agencies and any cyber guard legislation introduced would ensure they share the influx of new talent on a rotational basis.
"You're not [just] going to work at NSA or DOD, you're going to go work at U.S. Census or Interior Department, where we need talented folks," Hurd said.
When he began to contemplate the concept of a reservist cyber force, Hurd said he "thought the hard part would be finding money" for scholarships. However, he said some slight tweaking could redirect existing scholarship funds—like those from the National Science Foundation that already flow to computer science students—to aspiring cybersecurity experts.
"The federal government is never going to be able to compete with Silicon Valley or broader private sector, but we can build a skill set of people to work on some of these massive networks," Hurd said.
"We have to deal with the long-term skills gap across the federal government."