Government Needs 'Heavy Artillery' for Cyberspace, DHS Chief Says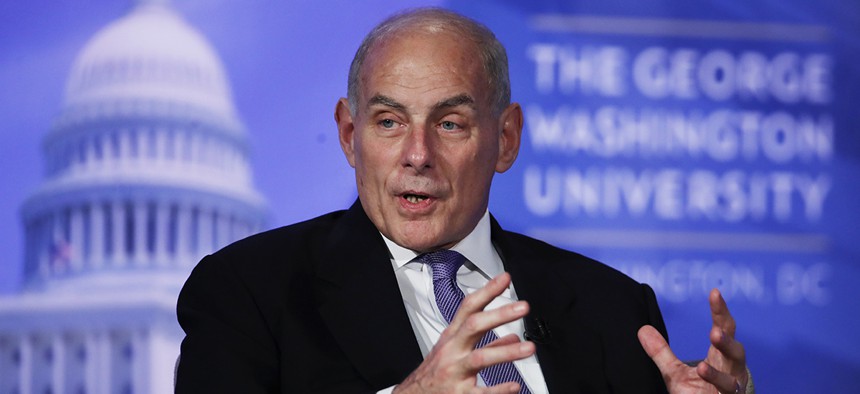 Plodding bureaucracy could leave government outgunned in cyberspace, Gen. John Kelly said in his first major address as secretary.
The government must upgrade the digital weapons it uses to defend federal networks from nation-state and criminal hackers, Homeland Security Secretary Gen. John Kelly said Tuesday.
Kelly cited "nation-state actors with extremely sophisticated tools," "lone wolves" and "cyber terrorists that simply buy malware on the internet" as top cyber adversaries during his first major speech as secretary at George Washington University's Center for Cyber and Homeland Security.
Government risks being outgunned in cyberspace because of the "plodding pace of bureaucracy," Kelly warned during prepared remarks, though he skipped over that section in his formal address.
» Get the best federal technology news and ideas delivered right to your inbox. Sign up here.
Allowing digital defenses to develop at government pace is akin to "sending troops to take Fallujah armed with muskets and powdered wigs," Kelly warned in those remarks, adding that "our federal cybersecurity needs heavy artillery."
Kelly warned during the speech itself that cop-proof encryption systems are making it much easier for terrorists to recruit and plan operations.  
"These individuals are becoming harder and harder and, I predict, eventually impossible to detect," he said.
Kelly said he has no update about a long-delayed executive order on cybersecurity the Trump administration floated during its first weeks in office but then abruptly pulled.
"I'm standing by with bated breath. I can't wait," Kelly said.
The secretary also talked up cybersecurity cooperation between government and industry, touting President Donald Trump's outreach to the private sector. Kelly himself recently discussed cybersecurity with leaders at Microsoft, he said.
"It's something that certainly President Trump has taken on and is organized and is very, very involved in outreaching," he said. "The government, god knows, can't do it by itself."
Cybersecurity was one of three main prongs of Kelly's remarks, which also covered the threats of terrorism and of criminal drug gangs.
Several times during his speech, Kelly lashed out at critics of the department, especially lawmakers who have suggested the Trump administration is not sufficiently protecting the civil liberties of people detained at airports or land borders or unfairly targeting Muslims and other minorities.
"If lawmakers do not like the laws they've passed and we are charged to enforce—then they should have the courage and skill to change the laws," he said. "Otherwise, they should shut up and support the men and women on the front lines."
Kelly predicted the notoriously low morale at DHS will rebound because of the Trump administration's more aggressive posture.
"My people have been discouraged from doing their jobs for nearly a decade, disabled by pointless bureaucracy and political meddling, and suffered disrespect and contempt by public officials who have no idea what it means to serve," he said, adding that "the best way to improve morale is to let employees do the jobs they were hired and trained to do, and recognize them for doing it."