DHS Nominee has 'High Confidence' in Intel Community's Conclusion on Russia Hacking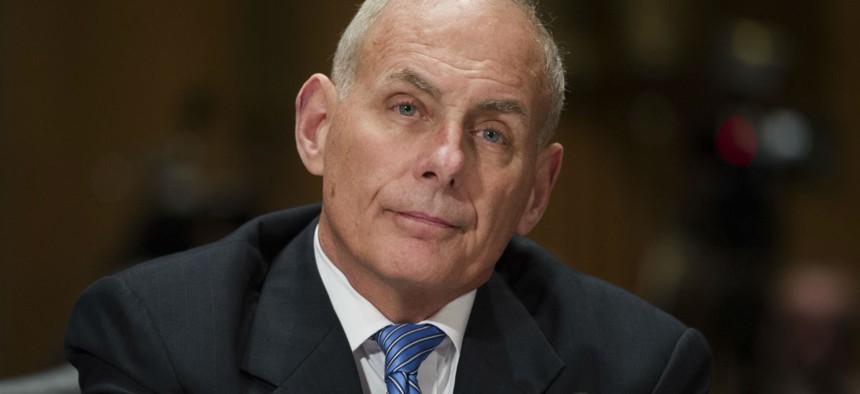 The statement could put Gen. John Kelly at odds with other cabinet nominees and his future president.
Donald Trump's pick to lead the Homeland Security Department believes "with high confidence" that top officials of the Russian government ordered an information campaign during the 2016 election aimed at undermining Democratic Nominee Hillary Clinton, he told lawmakers Tuesday.
That conclusion may put Gen. John Kelly at odds with his future boss who has refused, thus far, to endorse the intelligence community conclusion.
Trump insisted for several months after the November election that intelligence agencies' focus on the breaches was politically motivated. The president-elect has declined to say whether he's changed that position following a classified briefing Friday, which included intelligence gathered since the election.
» Get the best federal technology news and ideas delivered right to your inbox. Sign up here.
Trump may address the question during his first press conference since the election Wednesday.
Senate Homeland Security Chairman Ron Johnson, R-Wisc., and ranking member Claire McCaskill, D-Mo., expressed confidence after the hearing that Kelly will be rapidly confirmed.
McCaskill praised Kelly's statement on the Russian cyber attribution, calling him a "straight shooter."
"If you spend time with that report and if you have the ability to get a brief on the information that's not been declassified, I haven't met very many people that want to argue about it," she said, adding she hopes Kelly will be a "moderating influence" on the Trump administration. 
Trump's attorney general nominee, Sen. Jeff Sessions, R-Ala., gave a more shaded answer when questioned about the report's conclusions during his confirmation hearing Tuesday, saying, "I have no reason to doubt that and no information that would indicate otherwise."
Kelly hedged similarly in a questionnaire submitted in advance of the hearing, describing "numerous (and sometimes conflicting or speculative) news stories about Russian efforts to reportedly influence" the election.
"I do not have access to data that would allow me to validate those claims, or to provide an informed response to the questions posed here," Kelly wrote.
DHS is the nation's top civilian cybersecurity agency and  is responsible for helping the private sector secure critical infrastructure, a category that, as of Friday, includes computer servers that manage voter databases and election tallies.
If confirmed, Kelly's agency could also be responsible for distributing federal money to state election officials to improve the cybersecurity of their networks.
Kelly expressed some skepticism about that new role in his questionnaire, stating, "the notion that DHS can or should exercise some degree of influence over state voting systems is highly controversial and appears to be a political question beyond the scope of DHS' current legislative cyber mandates."
DHS' decision to label election systems as critical infrastructure was unpopular among some state officials wary of a federal power grab.
Asked about his broader cybersecurity priorities during the hearing, Kelly acknowledged as a retired Marine Corps general, he's more familiar with international cyber conflict than DHS' role protecting civilian government networks.
"If confirmed, I'll get deep into it," he said.
One priority, he said, will be to gather input and advice from the private sector in Silicon Valley and elsewhere similar to initiatives outgoing Defense Secretary Ash Carter launched at the Pentagon.
"There's unbelievable talent out there in the civilian sector," he said. "Working together makes an awful lot of sense."
Kelly endorsed Trump's call for a 3-month review of cyber vulnerabilities across the U.S., including in critical infrastructure in his written questionnaire.
"We must be faster and more agile across everything we do to safeguard and secure cyberspace—hiring, technology deployment and response," he wrote.
Kelly will also urge DHS departments to rapidly hire cyber professionals, he said in the questionnaire. 
Kelly also said he's interested in proposals to change the name of DHS' National Protection and Programs Directorate to better reflect its role as the department's main cyber division. He declined to fully endorse a name change before consulting with officials at DHS.
Kelly did not say if he supports legislation that would elevate NPPD to a full cyber operational unit. House Homeland Security Chairman Michael McCaul, R-Texas, championed such legislation last year, but it failed to wend its way through all committees with jurisdiction before the close of the Congress.