Trump May Be on Collision Course with Congress over Russian Hacking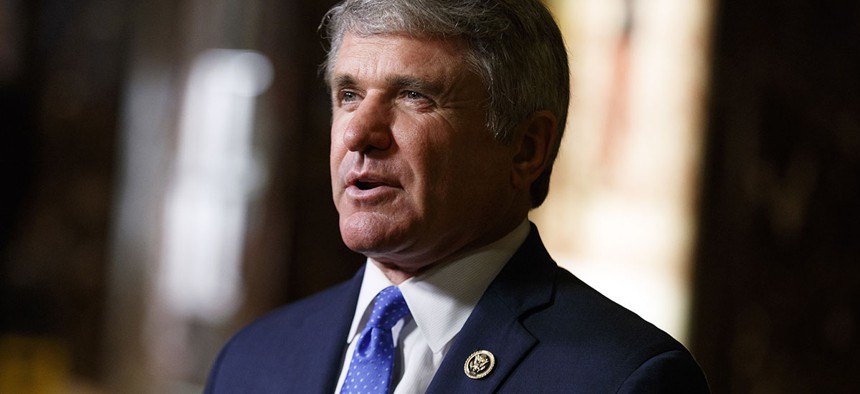 Lawmakers call Russian meddling in the election a threat to democracy; Trump says it never happened.
National security leaders in Congress could be headed for conflict with President-elect Donald Trump when it comes to Russian hacking.
Republican and Democratic lawmakers called for consequences for Russia's hacking of Democratic political officials and probing of state election sites Wednesday.
In a Time magazine interview unveiled the same day, the president-elect reiterated his conviction that Russia did not use digital attacks to meddle in the election and that the U.S. intelligence community's conclusion otherwise was politically motivated.
» Get the best federal technology news and ideas delivered right to your inbox. Sign up here.
House Homeland Security Chairman Michael McCaul, R-Texas, declared "there must be consequences" for Russia's election meddling during a "state of homeland security" address at the conservative Heritage Foundation.
"If we don't respond and show them that there are consequences, the bad behavior will continue," McCaul said, calling the hacks "a wake-up call" and a sign that "our democracy itself is being targeted."
Meanwhile, Rep. Elijah Cummings, D-Md., ranking member on the House Oversight and Government Reform Committee, introduced legislation with Rep. Eric Swalwell, D-Calif., to create a bipartisan, bicameral commission to investigate the hacks.
The proposed commission would require a majority vote from members of both parties to issue subpoenas to ensure bipartisanship, Swalwell said. The commission would be initially funded at $3 million, he said.
No Republicans have signed onto the bill so far, but Swalwell told reporters he's confident they will when the next Congress begins in January.
"Any attempt by a foreign power to undermine our election is a direct attack on our country and it should chill every single member of Congress and American—red or blue—to the core," Cummings said. "This is so much bigger than the 2016 election."
Cummings and other top Democrats on national security-focused committees also joined House Minority Whip Steny Hoyer, D-Md., in requesting a classified briefing for all members of Congress on the hacks from President Barack Obama on Tuesday. The White House has not yet responded to the request, Cummings said Wednesday.
Sen. Lindsey Graham, R-S.C., has also demanded a probe into Russian hacking.
Asked about Trump's statements denying Russian involvement in the hacks, Swalwell compared it to "denying that the sun sets in the west."
"I think Donald Trump should take his intelligence briefings," Swalwell said. "If he looks at the same intel I've seen on the committee, I think the evidence is pretty overwhelming."
Other lawmakers were less measured in their response to the Trump statement.
Rep. Adam Schiff, D-Calif., the ranking member of the House Intelligence Committee, charged on MSNBC that Trump "has essentially become really a propaganda piece for the Kremlin."
"I don't believe it. I don't believe they interfered," Trump told Time magazine, which named him its "person of the year."
Trump has held firm to his belief Russia was not involved despite intelligence and homeland security officials publicly linking top Russian officials to the DNC hacks. The U.S. government has only publicly accused foreign nations of politically motivated hacks a handful of times—all in the last few years.
The Justice Department indicted five Chinese hackers it accused in 2014 of hacking U.S. companies to steal intellectual property and trade secrets and indicted seven Iranians this year of hacking a dam in upstate New York. The Treasury Department also applied additional sanctions against North Korea after attributing the Sony Pictures Entertainment hack to the rogue nation in 2015.
As ammunition for his argument, the U.S. must respond to the Russian election hacks, McCaul criticized the Obama administration for not responding more forcefully to the China-linked breach of the Office of Personnel Management, which compromised 21.5 million background check records of former and current federal employees and their families.
"What was the consequence to that? A meeting, a meeting with Chinese officials and the bad behavior continues and our secrets are still being stolen," McCaul said during his address.
U.S. officials frequently said the Chinese government was behind the OPM hack when speaking without attribution but never officially attributed the breach.
McCaul, who advised the president-elect on national security issues and aided his debate prep, generally sided with Trump's positions and pilloried the outgoing Obama administration during his address. He argued for a ban on immigration from Syria and other majority Muslim nations, and building a wall along the U.S.-Mexico border.
McCaul was also considered a contender to be the next Homeland Security Department secretary before retired Marine Gen. John Kelly was named Wednesday.
McCaul also pledged Wednesday to reintroduce legislation to create a commission to examine encryption challenges.
"I can tell you that the bad guys are using encrypted applications to recruit and to plot against us all the while avoiding detection," McCaul said, calling it "the biggest federal law enforcement challenge we face today."
The commission's charge would be to reduce digital safe havens for terrorists and criminals without undermining Americans' digital security—a task digital rights advocates and many tech firms say is impossible.