House Homeland Chairman Braces for Jurisdiction Fight Next Congress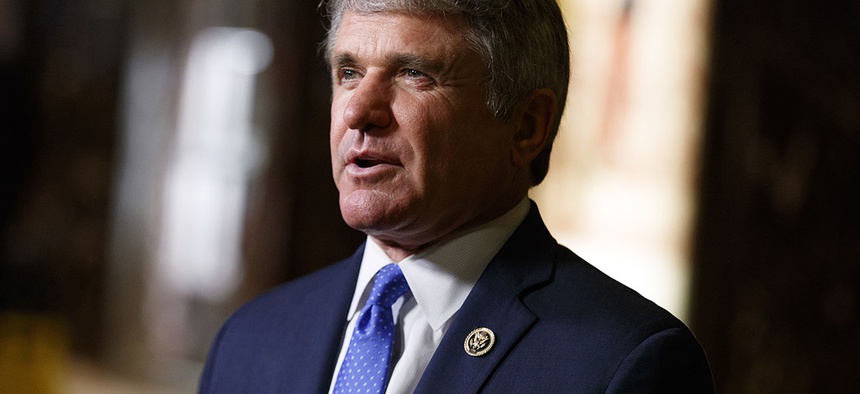 The current shared jurisdiction system is onerous and prevents needed cyber reforms, Rep. Michael McCaul says.
House Homeland Security Chairman Michael McCaul, R-Texas, wants to wrest oversight of the Homeland Security Department from competing committees next Congress, he said Wednesday.
The current jurisdictional system, which divvies up DHS oversight between numerous committees, is simply too complex to get needed reforms passed, McCaul said at the Bipartisan Policy Center during an appearance with Homeland Security Secretary Jeh Johnson.
Pulling oversight for civilian cybersecurity and other DHS functions under the Homeland Security Committee's jurisdiction would require amending the rules package that will be passed early next Congress.
» Get the best federal technology news and ideas delivered right to your inbox. Sign up here.
McCaul said Wednesday he believes he has support for that amendment from the chairs of the House's national security-focused committees.
The committee has also been working with House leadership on the proposal for several months, a congressional aide told Nextgov.
Wresting DHS jurisdiction from other committees such as Energy and Commerce, and Transportation and Infrastructure will be a heavy lift, however.
An Energy and Commerce staffer responded when queried about the issue that "we expect to remain the point committee on cyber issues next Congress."
Creating a single point of congressional oversight for homeland security issues was a recommendation of the 9/11 Commission and one of nine recommendations commissioners noted as incomplete in 10th anniversary report sponsored by the Bipartisan Policy Center.
As evidence of dysfunction, McCaul cited a bill that passed his committee unanimously in June to elevate and streamline DHS' cyber division, the National Protection and Programs Directorate. The bill would also rename the NPPD the Cybersecurity and Information Protection Agency.
In order to bring the bill to the floor, McCaul's committee must reach agreement with three other committees that have jurisdiction: Energy and Commerce, Transportation and Infrastructure, and Oversight and Government Reform.
Congressional aides told Nextgov last week they were still hopeful about reaching consensus on the bill during the lame-duck session and perhaps folding it into a must-pass bill that will be sent to the Senate.
McCaul was less sanguine about the bill's prospects Wednesday. "I cannot get that passed in the Congress right now," he said.
McCaul also cited the DHS Reform and Improvement Act, which he introduced this month.
"It got referred to nine other committees on the hill," he said. "How in the world can I get anything done as chairman? It needs to be fixed once and for all."
McCaul has been floated as a possible successor to Johnson at DHS under President-elect Donald Trump. If he remains in Congress, he will be serving his final term as chairman under Republican term-limit rules.