Denying Trump's Denial, US Intel Chief Says There's More Evidence of Russian Hacking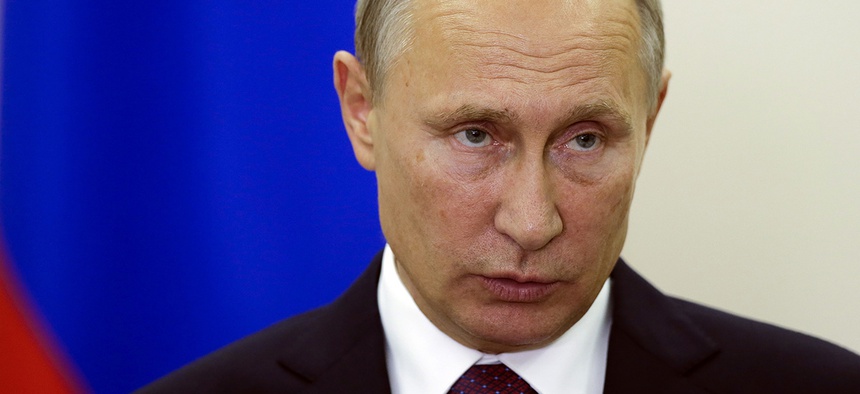 At Wednesday's debate, Donald Trump said Hillary Clinton "has no idea whether it's Russia" who hacked into the private networks of her campaign's allies, then released the information to WikiLeaks and the world. "Our country has no idea."
This morning, without calling out Trump by name, Director of National Intelligence James Clapper said, um, yeah, we do.
The cybersecurity community has attributed that attack and leak to FANCY BEAR, a group also known as APT 28. Defense One asked Clapper if the intelligence community has identified specific people associated with the group? Specific buildings? Units? And how good is the attribution and how strong is the connection to nation-state backing?
In response, Clapper cited his office's Oct. 7 press release. "We wouldn't have made it unless we were very confident," he said. "I'm not going to discuss the underlying evidentiary basis for it, but I can say with confidence, it speaks for itself."
The statement reads: "The recent disclosures of alleged hacked e-mails on sites like DCLeaks.com and WikiLeaks and by the Guccifer 2.0 online persona are consistent with the methods and motivations of Russian-directed efforts. These thefts and disclosures are intended to interfere with the U.S. election process."
Clapper also hinted the intelligence community had more information about the groups than has yet been made public.
"That's one of the reasons we waited for as long as we did to make the statement, was to ensure that we had sufficient evidence both forensic and otherwise, to reach the conclusion we reached as articulated in the statement," he said. "I don't think I need to say anything more about it, other than the fact the statement speaks for itself. It was mainly addressed to the American electorate, not to any foreign nation-state."
The Office of the Director of National Intelligence collects and coordinates for the president the information and analysis from U.S. intelligence agencies.
Speaking at an American Enterprise Institute event Wednesday, the National Security Agency's Curt Dukes said U.S. Cyber Command was the leading investigatory agency.
"I would be remiss. It was U.S. Cyber Command, with support from the information assurance directorate" said Dukes, NSA's deputy national manager for national security systems. "U.S. Cyber command led the activity. I can't get into who the actors are."