Here's What the Senate is Planning to Do About NSA Spying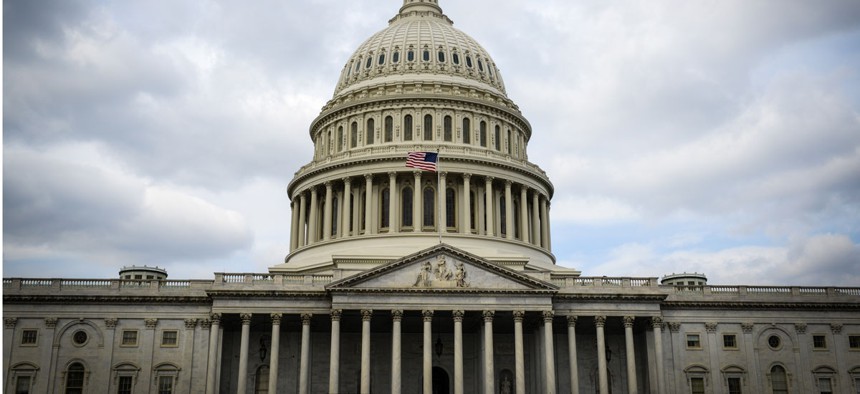 The majority leader is facing a choice between a bill he doesn't like and a short-term extension he may not be able to get passed.
Mitch McConnell is out of easy choices, and he's almost out of time.
On June 1, the portion of the Patriot Act that authorized the National Security Agency's bulk data-collection program is set to expire. McConnell had hoped Congress would reauthorize Section 215 and leave the program intact, arguing that it's a critical part of defense against terror attacks. But privacy concerns raised by Democrats and libertarian-minded Republicans have made that impossible.
Instead, last week, the House passed a bill that would limit the data-collection program. The USA Freedom Act would end bulk collection and require the government to contact telecommunications companies on a case-by-case basis. House Speaker John Boehner has said he won't make another move until the Senate has acted.
For McConnell, passing the House measure is not acceptable, but as he looks for an alternative, he lacks an obvious path to keeping the program from expiring when it hits its June deadline.
On Tuesday, McConnell announced he would give the USA Freedom Act a vote on the floor. He won't be supporting the legislation, but is putting it on the floor to demonstrate that it lacks the support it would need to advance in the Senate. Most Democrats and a handful of Republicans, including presidential contender Ted Cruz, are expected to vote "yes" on the measure. But with McConnell and many of his fellow Republicans opposing the measure, leaders say it's unlikely to overcome a 60-vote threshold.
If the bill falls short, Republican leaders have a backup plan: "We are going to have to do a short-term extension if that fails," said Sen. John Thune.
But Democrats and some Republicans may not be willing to back the extension. "I'm opposed," Cruz said. "Right now, the Senate is playing a game of chicken with the House of Representatives, and the likely consequences are that all of these provisions will expire and we will lose the national security tools that are necessary to prevent acts of terrorism. "
Democratic Sens. Ron Wyden  also said he would filibuster a short-term extension. And many other Democrats including Martin Heinrich have said they would not support any extension. Aides would not rule out a one- or two-week extension, but did note it would require unanimous consent from members.
As time grows short, Republicans worry about the political consequences of letting the program expire. "We are in charge," said one Republican senator who spoke on the condition of anonymity to discuss leadership freely. "This is tough."
Democrats, meanwhile, are calling on McConnell to help pave the way for the Freedom Act, a bill he opposes. "This is about the Senate. This is about McConnell," said Sen. Barbara Boxer. "He's wrong on this. The Republican House passed a bill that's good; let's take it up and pass it. And if he doesn't see that, I don't know what he sees."
McConnell's fellow defense hawks have sympathized with their leader's situation.
"Frankly, I don't know what else he can do, given the situation as it is right now," Sen. John McCain said. "See what I mean? I'm sure he's choosing the least of a series of very difficult options."
Kaveh Waddell contributed to this article.
(Image via Brandon Bourdages/ Shutterstock.com)