Gun-testing robot, Open Internet guidance and a health care breach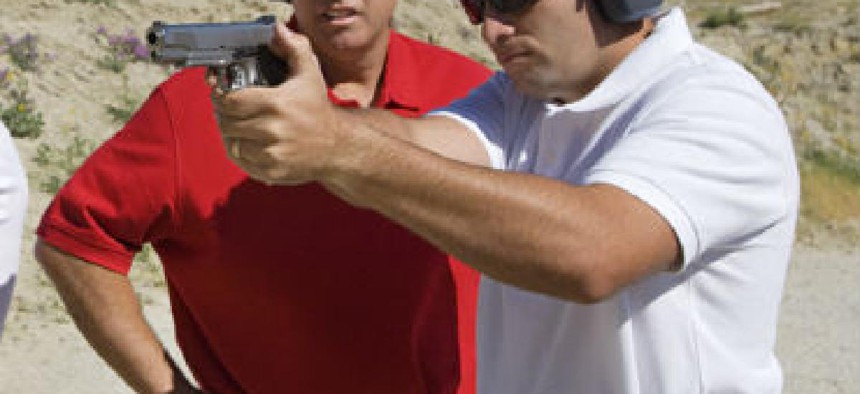 Immigration and Customs Enforcement will be adding robots to its test firing range to ease the physical strain on human shooters.
Gun-testing robot ready for the range
Immigration and Customs Enforcement will have a new robot, or something close to one, on its test firing range soon -- and it can pack two-fisted heat.
The Department of Homeland Security's Science and Technology Directorate said it had completed work on a robotic device that can test multiple types of handguns and ammunition. The Armory Operations Branch in ICE's Office of Firearms and Tactical Programs will integrate the Virtual Shooter into its process for testing firearms and ammunition.
Firing thousands of rounds of ammunition can challenge even the fittest human shooter and cause joint pain and other physical discomfort. That's where the Virtual Shooter comes in. The machine consists of three major components that mimic a human shooter: a mechanical arm and hand modeled on major human bone and muscular structure; air cylinders that simulate aiming and resisting recoil forces in the wrist, forearm, upper arm and shoulder; and a pressurized backboard mount that represents a shooter's torso.
In a demonstration in March, the companies that worked with S&T on the project demonstrated single- and double-armed models that fired multiple handgun and ammunition types. Agents in the Armory Operations Branch chose the double-armed model because they said it more closely approximated their firing methods.
S&T officials said they ultimately plan to make Virtual Shooter commercially available to other law enforcement agencies and to the private sector.
FCC warns broadband providers on subscriber privacy
As an outgrowth of its recent Open Internet order, the Federal Communications Commission told broadband providers it would look for good-faith efforts to protect the privacy of subscriber information.
Telephone companies are allowed to use information on subscribers' activities to market additional services to customers, but sharing data with other companies for marketing purposes is a no-no. In the broadband world, a service provider could potentially mine subscriber activity to target advertising to users.
The FCC might update the rules for broadband in the future, but when the order takes effect on June 12, the existing rules of Section 222 of the Communications Act apply.
Guidance released on May 19 by the FCC's Enforcement Bureau states that "absent privacy protections, a broadband provider's use of personal and proprietary information could be at odds with its customers' interests and that if consumers have concerns about the protection of their privacy, their demand for broadband may decrease."
What that means for providers' marketing strategies remains to be seen. The FCC invited companies to submit their plans to see whether they comply with the order. Although companies are under no obligation to share that information with the FCC, officials said, "the existence of such a request for guidance will tend to show that the broadband provider is acting in good faith."
1.1 million affected by CareFirst breach
Health insurer CareFirst BlueCross BlueShield announced May 20 that it had been hit by a sophisticated cyberattack affecting 1.1 million people and said hackers had gained limited access to a CareFirst database in June 2014.
The company said the breach was discovered during IT security maintenance initiated after recent hacks of other health insurers. There is evidence that the hackers might have acquired the subscription identification numbers, email addresses and other information of visitors to CareFirst's website, the company said.