No split between NSA and Cyber Command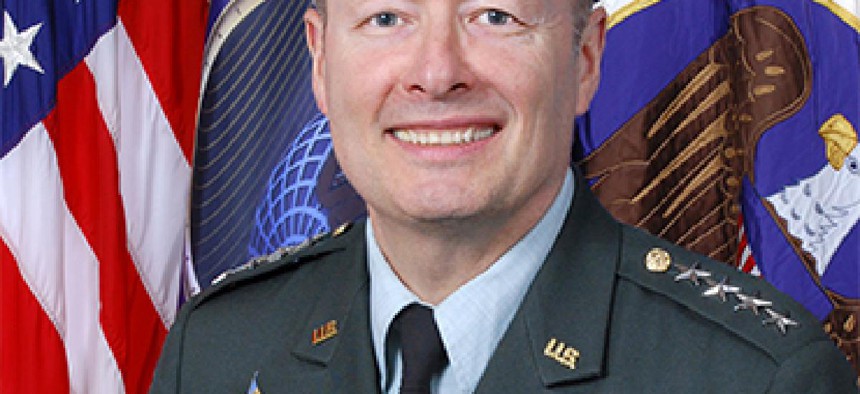 Despite task force recommendations, the White House makes clear that Alexander's successor will play both roles.
Some have suggested that when Gen. Keith Alexander steps down in 2014, the jobs of running the National Security Agency and U.S. Cyber Command should be divided.
Reports on the still-unreleased recommendations of a presidential task force charged with reviewing U.S. intelligence gathering practices indicate that the group will recommend the administration change its policies on bulk data collection from telecommunications companies, and make structural changes to the organization of the National Security Agency.
The recommendations of the Review Group on Intelligence and Communications Technology, as reported in the
Wall Street Journal and the New York Times, include putting the NSA under civilian leadership and separating it from the U.S. Cyber Command. However, the White House has already indicated that it plans to keep the functions unified under a single military leader.
"Following a thorough interagency review, the administration has decided that keeping the positions of NSA Director and Cyber Command Commander together as one, dual-hatted position is the most effective approach to accomplishing both agencies' missions," White House national security spokeswoman Caitlin Hayden said in a statement.
The possibility of dividing NSA and CyberCom spurred significant speculation in recent months, including guesses as to what the organizations could look like post-split and how such a separation would take place. In recent days a handful of DOD officials expressed doubts as to whether splitting the two would be the best route to take, including CyberCom's second-in-command.
"In my personal opinion, it works pretty darn good the way it works right now. We have figured out a way to make this work and get my job done," Marine Corps Lt. Gen. Jon Davis, deputy commander of Cyber Command, said at a Dec. 5 event, according to National Defense.
Others have worried about a potential gap in intelligence or defenses.
"There is a great synergy between CyberCom and NSA," Gen. William Shelton, commander of Air Force Space Command, said Dec. 11 at an AFCEA event in Vienna, Va. "If they end up being split, it would take a very strong partnership between those two individuals to make sure we don't have any loss of capabilities or information."
The Air Force currently is evaluating the best ways to meet CyberCom's requirements for additional troops. Davis said the command is in the process of training more than 6,000 troops to become cyber warriors.
In sync with Congress
Other recommendations of the task force appear to track closely with legislation backed by former House Judiciary Chairman James Sensenbrenner (R-Wis.) and Senate Judiciary Chairman Patrick Leahy (D-Vt.), to put limits on the government's authority to engage in bulk data collection from telecommunications companies.
The measure, dubbed the USA Freedom Act, faces competition from a more NSA-friendly bill supported by the chairs of the Intelligence committees, Rep. Mike Rogers (R-Mich.) and Sen. Dianne Feinstein (D-Calif.), which would preserve bulk collection under certain restrictions.
The task force urges the NSA to leave data collection to the telecommunications companies, and put some procedural hurdles in place before intelligence agencies could search through these databases. Another proposal involves splitting off the Information Assurance Directorate, which is responsible for encryption standard, from the NSA. The move could be seen as an attempt to repair the breach between the NSA and the encryption community, which was rocked by revelations that the code-breaking agency had introduced flaws into encryption algorithm standards.
It's not known whether the Obama administration will implement any changes to intelligence-gathering policies as a result of the recommendations, which are expected to be made public next week. The NSA has publicly advocated maintaining bulk data collection as a way to gather information on potential threats.
"If we could come up with a better way, we ought to put it on the table and argue our way through it. The issue that I see right now is that there isn't a better way," outgoing NSA Director Gen. Keith Alexander said in Senate testimony on Dec. 12.