CBP wants blockchain capability for its trade portal modernization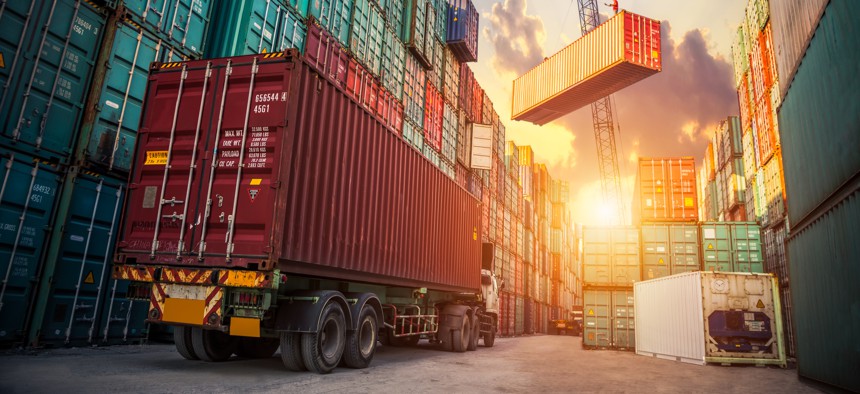 The law enforcement agency is conducting market research into distributed ledger technology that could be included in its efforts to update a trade processing portal.
U.S. Customs and Border Protection wants to know more about how blockchain and other distributed ledger technology could be applied to a portal the agency uses to process import and export trade data.
In a sources sought notice released Friday, CBP officials outlined their interest in evaluating commercial "DLT variants and enabling capabilities (e.g., blockchain, distributed databases, centralized and decentralized ledger and data storage solutions, directed acyclic graphs, smart contract protocols, etc.)," that could potentially be applied to its ongoing Automated Commercial Environment 2.0 modernization efforts. 
The ACE platform handles all trade processing for CBP — including manifest, cargo release, post-release, export and partner government agency information, while collecting associated taxes and fees — and the agency is in the midst of a multi-step modernization effort that began in 2022. 
As part of the modernization effort, the July 21 notice outlined CBP's intention to include distributed ledger technology to help enhance data sharing and supply chain transparency.
"In recent years, trends in cargo processing have presented several unique challenges for CBP. In addition to increasing trade volumes, global supply chains have grown in complexity making it more difficult to manage and enforce import and export laws with existing processes and technologies," the notice said. "Additionally, global supply chains continue to be inundated with non-traditional actors, individual trade transactions and new processing channels."
Among the operations that CBP hopes to improve with a DLT solution are applying the technology to help reduce time, cost and delays for processing cargo transactions; developing a more integrated system to share data between CBP offices and partner agencies; increasing visibility into the cargo supply chain; adding consistency in the ability to track and manage enforcement cases; and enabling the ability to identify suspicious trade transaction data. 
Because DLT technology provides users simultaneous access, validation and updating of transactions, agency officials see it as a possible solution to replacing the limitations of the ACE platform's more legacy IT.
"CBP recognizes the potential of DLT to improve the transparency and data integrity of distributed transactions, which appears to be immediately transferable to the context of international trade to verify sources in the supply chain and resolve trade enforcement cases," the notice said. "CBP is interested in learning more about blockchain and other DLT solutions that may be available at reduced costs, simplified development and reduced integration challenges."
The notice calls for information on potential price drivers associated with DLT platforms, cost estimates, data security, integration and interoperability challenges and other details. 
Interested stakeholders have until 1 p.m. on Sept. 15 to respond.