Office of American Innovation, OMB Seek 'Early Wins' for IT Modernization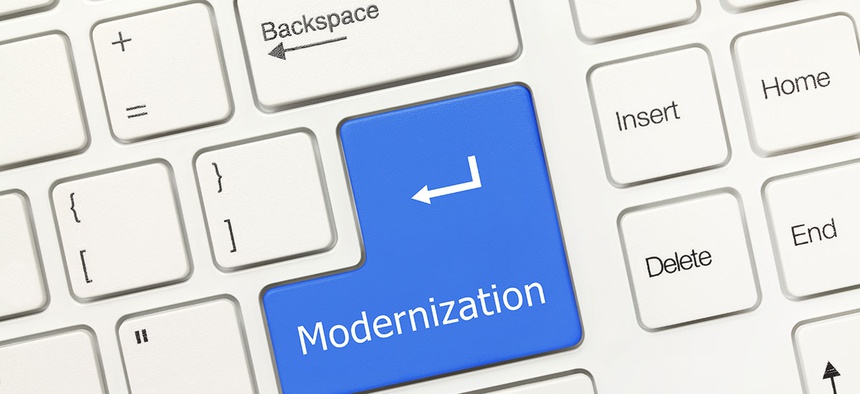 The Jared Kushner-led innovation office meets regularly with Office of the Chief Information Officer on cyber and citizen matters.
President Donald Trump hasn't yet nominated a federal chief information officer, prompting critics to question how highly he prioritizes modernizing government technology.
But in his first few months in office, his administration has taken steps to update federal IT; his newly created White House Office of American Innovation meets regularly with the Office of Management and Budget's Federal Deputy Chief Information Officer Margie Graves.
The Office of American Innovation, a new team Trump created this year directed by his son-in-law and senior adviser Jared Kushner, has been described internally as a "SWAT team" bringing private-sector practices into government. Members include Chris Liddell, Microsoft's chief financial officer, and Reed Cordish, the president's assistant for intergovernmental and technology initiatives.
» Get the best federal technology news and ideas delivered right to your inbox. Sign up here.
There is "significant coordination" between that team and OMB's Office of the CIO, Graves said at a Wednesday event hosted by FCW, including weekly Friday meetings about a 90-day modernization sprint focusing on cybersecurity, citizen-facing services and the technology that supports those.
OMB is also convening a board that could oversee the allocation of funding for IT modernization projects, as well as the technology talent pipeline into government. The Modernizing Government Technology Act, passed by the House, would create working capital funds federal agencies could use for their own modernization efforts, in addition to a governmentwide fund the General Services Administration would dole out to federal applicants.
"We're seeing no indications that this is anything but a bipartisan or even nonpartisan play," Graves said.
The central fund proposed in the MGT Act, up to $250 million, could "give an uplift" to technology programs needing a boost, and can be directed to efforts consolidating services so agencies can share them.
The board OMB is convening would be chaired by the federal CIO, though administrative responsibilities would fall to GSA. OMB Director Mick Mulvaney is slated to appoint several other members from federal agencies and from the White House, Graves said. There are currently about seven members.
OMB is also looking to business leaders and venture capital investors for advice about how they choose which companies to invest in, as well as to agencies with grant-making authority.
The goal is to "show early wins," to persuade Congress that IT modernization efforts are working, she explained, especially in a way that doesn't tie funding into federal budget cycles.