GSA Pushes Forward as Digital 'First Mover'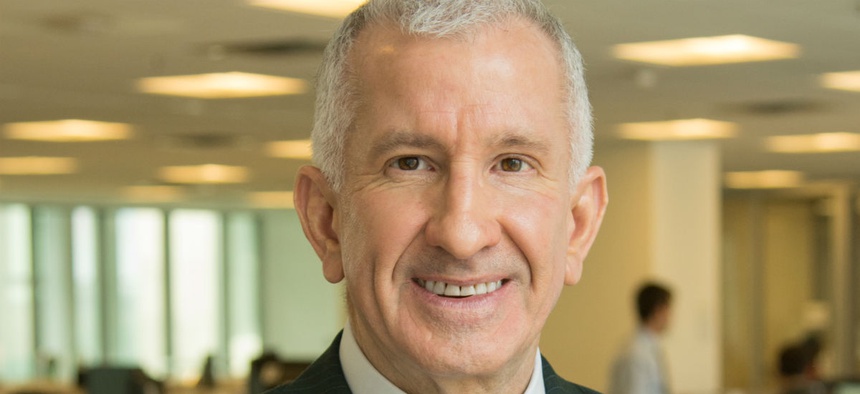 The General Services Administration has been on a transformative and collaborative quest in federal IT in recent months, supporting several new large-scale initiatives, and continuing to expand its new tech wing, the Technology Transformation Service.  
A blog post written today by two of the agency's top executives, TTS Acting Commissioner David Shive and Federal Acquisition Service Commissioner Tom Sharpe, suggests GSA is determined to continue the momentum it has built up through a series of strategic collaborations and customer-based decisions.
Continuing that push forward "was important enough that we launched a whole new service [TTS]" to help agencies that struggle with the digital transformation afoot, Shive said in an interview with Nextgov.
» Get the best federal technology news and ideas delivered right to your inbox. Sign up here.
"It allows us to be the first movers, to vet assumptions we've made and gauge the value of modernized and transformative IT in the federal government," Shive said. "It eliminates risk in other agencies, and we can jump on board with learnings, tactical applications and drive value into those agencies. We're helping our partner agencies learn about what's possible."
Shive and Sharpe's blog post highlights several of GSA's big IT wins in recent months. Among them:
The Federal Risk Authorization and Management Program office released a readiness template designed to reduce the time it takes cloud service providers to achieve authorizations to operate. This document came after criticism that authorizations were too costly and time consuming.
The FAS Office of Integrated Technology Services modified a governmentwide contract with geospatial information systems supplier Esri, "saving our customers millions of dollars," Sharpe said. As the blog post notes, geospatial data is key to the fight against the Zika virus, helping monitor mosquito breeding grounds.
18F, one of the components within TTS, worked with embedded FAS contracting officers to establish the agile services blanket purchase agreement. Customers can then purchase services from agile suppliers off Schedule 70, and the agency put its money where its mouth is by establishing the first order against the agile BPA to develop a public dashboard for FedRAMP. Embedding contracting officers with 18F is important, Sharpe told Nextgov, because "better builders can make us better buyers." The complementary relationship can help agencies "better leverage the buying power of the federal government."
GSA also expects to play a significant role in carrying out the Cybersecurity National Action Plan, particularly in helping agencies acquire potentially necessary cybersecurity services. In June, GSA released a request for information regarding the creation of a new special item number agencies could use to buy select cybersecurity services from the Schedule 70 vehicle. GSA will be releasing a public update shortly on the matter. 
Depending on which way federal IT modernization legislation shakes out, GSA could play a major role in the coming months. Should Congress pass the IT Modernization Fund legislation, creating a $3.1 billion pot of money, GSA would be charged with administering those dollars.
For all the progress, there have been bumps. 18F's cadre of techies—housed within TTS—came under the scrutiny of both GSA's inspector general for perceived data breach vulnerabilities and the Government Accountability Office as it struggled to recover costs. In addition, TTS' first commissioner, Phaedra Chrousos, stepped down in June after two months of holding the position, but Shive quickly stepped in as acting commissioner for the tech wing.
GSA posted the job in July, but the challenge of leading a department under scrutiny and Congress' watchful eye apparently did not dissuade people from applying. The posting closed last week but drew "an overwhelming number of people interested in the job," Shive told Nextgov.
That mirrors the interest of techies brought into government under special hiring authorities. Shive said a large percentage of the talent—perhaps as many as four in five brought into 18F for 2-year assignments are opting to re-up for an additional two years of service.
"That let us know that people are excited to step into public service," Shive said. "People are excited about this."