Tony Scott: IT Modernization Fund or Not, 'Accountability All the Way'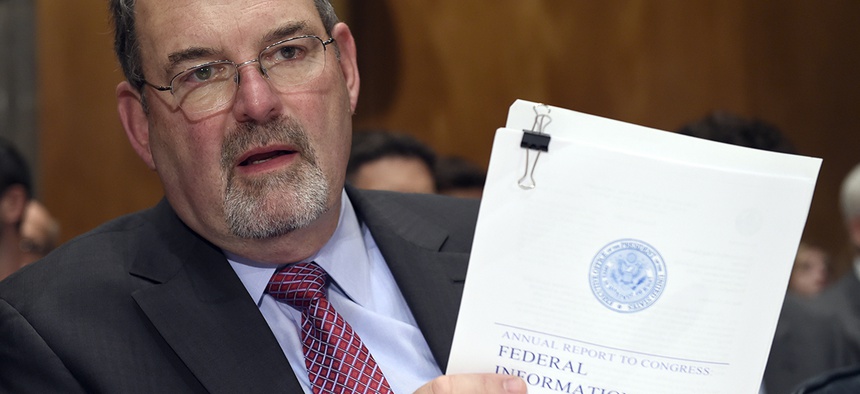 U.S. Chief Information Officer Tony Scott continued making the case Wednesday for a $3.1 billion IT modernization fund federal agencies could use to borrow against to modernize legacy systems that are – in some cases – decades old.
Speaking at an event hosted by Nextgov, Scott ran through various alternatives to the IT modernization fund, though none measure up. Doing nothing, he said, would be a cataclysmic mistake, effectively shunning what he has in the past called the "single greatest opportunity" to change federal IT.
Scott called a "set it and forget it," policy -- or throwing money at agencies without watching how they use it -- equally unlikable. Having agencies "go around and tin cup, collecting money to replace and upgrade infrastructure" might be possible, Scott said, "but it's going to take a long time" and would be an unenviable undertaking.
"We need accountability all the way," Scott said, referring to the IT modernization fund's oversight mechanism.
If the current version of the IT modernization fund became law, it would create a centralized fund that Congress would fund just once. Agency CIOs, then, would create business cases around modernizing their legacy systems and bring them before a panel that includes representation from Scott's office and other procurement, tech and financial experts.
"Recommendations for funding would come from that panel," Scott said. 
As proposed, Scott said the fund would be administered by the General Services Administration, and once funded, programs would be forced to submit regular progress reports to ensure accountability. Scott said he believes initial investment of $3.1 billion could fund as much as $15 billion worth of new applications and infrastructure over the next several years, but that's only if it's paid back in full.
That would take a "whole Office of Management and Budget effort," he said, though it's unclear what additional measures aside from pressure from budget appropriators might be available to force agencies to pay back borrowed funds. Congress can compel agency officials to testify before members, but that hasn't stopped agencies from wasting billions of dollars in the past.
What is clear, Scott said, is the need to do something more than "keep our IT systems on life support," and any action taken will require "visibility, transparency and accountability."
Whether that something is actually the IT modernization fund seems iffy, however. Congress may be warming to the idea, but even some sliver of bipartisan support doesn't mean much at the moment.
When asked whether the IT modernization fund would become law this session, Madison Smith, senior legislative assistant for Rep. Will Hurd, R-Texas, said he rated the chances about a "five out of 10." Dave Powner, director of IT management issues for the Government Accountability Office, concurred with that assessment.