Updated IT Reform Act Would Make CIOs Presidential Appointees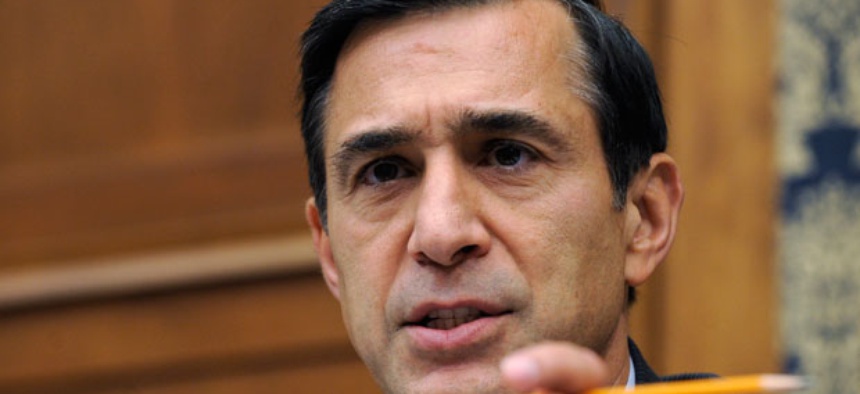 This story has been updated.
An updated draft of legislation to fundamentally reform how the government purchases information technology gives agency-level chief information officers more authority but scales back some earlier proposals to centralize purchasing for major IT products and services.
Most notably, the revised bill, proposed by Rep. Darrell Issa, R-Calif., would make CIOs of all major civilian agencies presidential appointees or designees. Agency CIOs now are typically appointed by their department secretaries while chief financial officers are presidential appointees.
The revised bill also states the CIO should have a direct line to the secretary on important matters and retains language granting CIOs authority to shift funding within their agencies' technology budgets, a power now only granted to the Veterans Affairs Department CIO.
Issa plans to introduce the updated Federal Information Technology Acquisition Reform Act soon and it will likely be discussed during a House Oversight and Government Reform Committee business meeting March 20, a committee spokesman said. Rep. Gerry Connolly, D-Va., will cosponsor the bill, a spokesman for Connolly said. Connolly is the ranking member of the oversight panel's government operations subcommittee.
Issa first floated the proposed federal IT reboot in September 2012 during the last Congress.
The updated legislation also "clarifies that open source software should be viewed on a level playing field with other forms of software acquisitions" but not given an advantage over proprietary software.
Technology industry groups including TechAmerica said they would not endorse the draft legislation unless a section promoting open source software was removed or revised. An Issa spokesman said at the time the legislation did not privilege open source software but merely suggested acquisition officials consider it when appropriate.
In testimony before Issa's committee in January, federal CIO Steven VanRoekel said he does not believe new legislation is necessary to improve federal IT performance.
The updated bill also adds language aimed at promoting a broader use of "fixed price technical competition" or "bid to price" contracts.
Under a bid to price model agencies state the price they plan to pay for a product or service and vendors compete to offer the best services for that price. Bid to price models have been used sparingly in government because the Federal Acquisition Regulation lacks clear guidance about how to use them, according to a fact sheet about the updated legislation compiled by oversight committee staff.
Such contracts might prompt agencies to more extensively review the appropriate balance between the price of a contract and the good or services the agency gets for that price, the fact sheet states.
Tight budgets have pushed agencies to increasingly rely on "lowest price technically acceptable" contracts, which means the agency must accept the cheapest bidder that it determines has met all of the contract's criteria. Acquisition officials worry those contracts give vendors an incentive to artificially lowball their bids, resulting either in shoddy products or in contracts that ultimately cost more than estimated.  
The updated version of the IT reform bill scraps plans for a governmentwide Commodity IT Acquisition Center that would oversee or offer guidance on all IT contracts worth more than $500 million. In its place, the bill describes a Federal Infrastructure and Common Application Collaboration Center based inside the Office of Management and Budget. Collaboration center staff would serve as a "tiger team" to assist agencies with tricky acquisitions, according to the fact sheet.
The collaboration center would also assist agency CIOs with TechStat reviews of troubled IT projects.
Acquisition experts expressed concern in hearings and public forums that the IT Acquisition Center might unnecessarily duplicate the General Services Administration's work.
The legislation also entirely removes the term "commodity IT," which critics said was too vague and may cause confusion. Instead the bill uses the phrase "infrastructure and common applications."
The first draft of the bill described the creation of a collection of agency-based Assisted Acquisition Centers of Excellence with special expertise. Agencies would have been required to consult the centers about particular categories of IT purchases; the revised version makes consultation optional, noting acquisition experts said mandatory consultation may create unnecessary bureaucratic hurdles.
The revised bill also strengthens language focused on improving and broadening the government's cadre of IT and acquisition experts, partly by mandating new plans from OMB to make those jobs attractive to people outside government and to demonstrate a clear career path in the fields.
The original version of the bill sought to codify several of the Obama administration's technology priorities, including reducing the government's stockpile of data centers, shifting more government computing to computer clouds and reducing the number of government websites.
The updated version of the bill would require agencies to report on the cost savings from data center consolidation annually, reflecting an administration shift to focus on the savings obtained by shuttering data centers rather than the raw number of centers closed. Federal CIO VanRoekel expects to ultimately save $5 billion by closing data centers.
The revised bill also:
Gives agency chief information officers flexibility to establish working capital funds to help pay for the transition to cloud-based services;
Adds language ensuring federal websites are accessible to people with disabilities; and,
Mandates that roughly 80 percent of federal IT investments are tracked on the Federal IT Dashboard, compared with about 50 percent that are tracked on the dashboard currently.