Defense Department seeks insights on AI's ability to diagnose brain injuries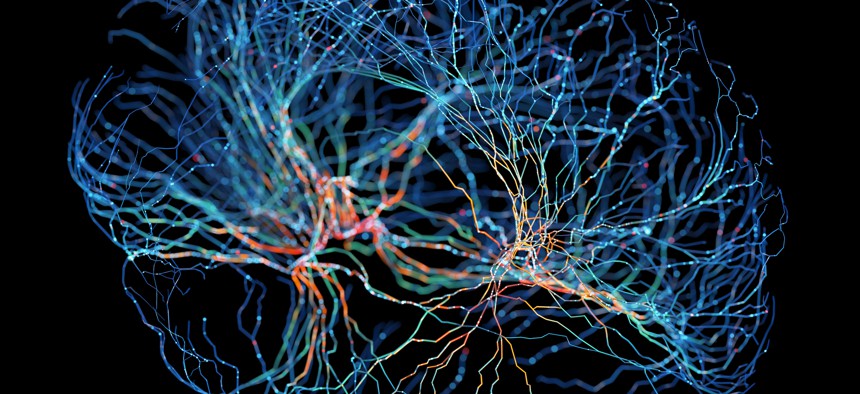 The department wants to understand whether artificial intelligence and other technology prototypes can help diagnose, monitor and treat traumatic brain injuries.
A Defense Department-managed public private partnership is assessing what technology solutions are available to better diagnose traumatic brain injuries in U.S. servicemembers and is looking for insights from industry.
In a sources sought notice issued Monday, the Medical Technology Enterprise Consortium — a nonprofit biomedical technology consortium operating under an other transaction authority with the U.S. Army Medical Research and Development Command — called for new tech prototypes that can help detect, diagnose and treat TBI cases. 
The request is intended to inform both MTEC and the Defense Department of available technology and interest ahead of the former's State of the Technology Meeting, which is slated for early 2024 and will focus on neurotrauma.
"TBI's complex pathophysiology is not fully understood, broad defined and outdated classification to mild, moderate and severe TBI significantly hamper our ability to treat TBI patients," the notice said. "Nevertheless, early diagnosis, treatment, monitoring and maintenance of TBI patients in the acute setting can significantly improve long-term functional outcomes and reduce injury severity."
The notice called for project information papers that could outline prototype capabilities that may be presented at the State of the Technology Meeting. 
Those papers can be penned by both MTEC and non-MTEC members and can be focused on areas like artificial intelligence and machine learning to assess endpoints and offer diagnosis and treatment guidance; molecular targets for diagnosis of TBI; electrophysiological markers of TBI; and minimally or non-invasive devices to monitor such markers, as well as offer "continuum of care from front lines to fixed hospitals."
"Attendees of the meeting will also gain exposure to government agencies, their respective portfolios, and potential funding opportunities relevant to TBI diagnosis, monitoring and assessment," the notice said. "The intended impact of the State of the Technology meeting is to better inform possible future investments by the [U.S.] government to advance specific technologies poised to address unmet needs in TBI care and transform the delivery of care for military and civilian populations." 
Following the meeting, an organizing panel will craft a State of the Technology Report that will offer recommendations for both USAMRDC's neurotrauma group and the Biomedical Advanced Research and Development Authority.  
According to the notice, 10% to 15% of all veterans involved in Operations Iraqi Freedom and Enduring Freedom experienced at least one TBI during their deployment. On the civilian side, "at least 4.8 million people in the United States seek medical care for TBI," according to the notice.
Interested stakeholders have until noon EST on Sept. 14 to respond to the notice.