Space Force focusing on innovative procurement methods for commercial software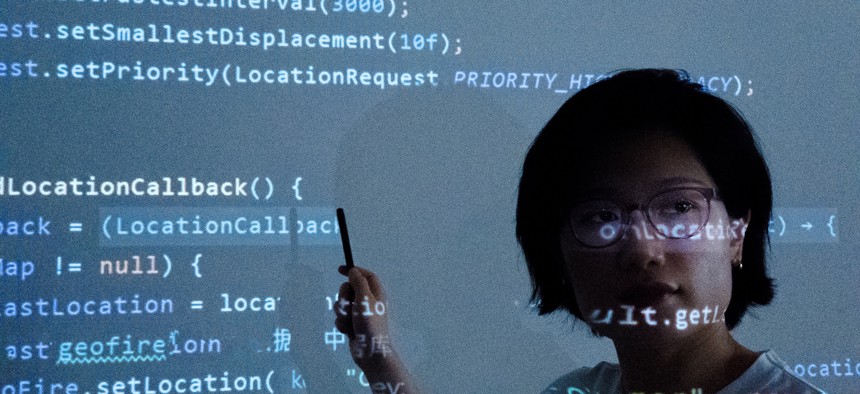 A top procurement official for the Space Force said on Tuesday that the military branch is using expanded authorities and innovative acquisition techniques to buy commercially available software and services, rather than relying on traditional procurement methods.
Lt. Col. Jonathan Wilson, deputy director of architectures, science and technology for the Space Force, credited its use of middle tier acquisitions with allowing the branch to "be fast, fail fast" and to "understand and iterate from technology or the enemy.
"The turn times and the requirement that it took to break through some of the bureaucracy were just not palatable for these very agile moving commercial companies," Wilson said at an open forum on cybersecurity in Washington D.C. hosted by Red Hat and the National Institute of Science and Technology. 
He added that the Space Force has leveraged middle tier acquisitions to develop rapid prototyping and software pathways, instead of using traditional acquisition programs to purchase commercial off-the-shelf software and services. 
Middle tier acquisitions offer a streamlined pathway to procuring technology, focusing on prototyping and fielding operational tools that can be tested and deployed at a rapid pace. The agile procurement process allows the military to adapt new technologies quickly and learn from their use before deploying at an enterprise-wide scale. 
Wilson also said that the military branch was "trying to figure out" what additional authorities were needed to continue replacing traditional procurements with newer methods. 
A growing industry of commercial companies offer a range of services and solutions that the Space Force can leverage to increase its understanding of emerging threats in the contested environment of space, according to a Government Accountability Office report published just last month. 
The report recommended that the military branch increasingly collaborate with the private sector to fill gaps in its space situational awareness.
"The rapid rise in the importance and challenges of operating in space necessitates enhancements to SSA capabilities, including consideration of commercially available data and tools," the report said.
The Space Force fiscal year 2024 budget request includes $4.7 billion for procurement and $19.2 billion for research and development. The latest budget request totals $30 billion and is the largest for the military branch since it was first established in 2019. 
Wilson said the request also includes $108 million to train the workforce on COTS software and services and other commercial tools. 
"We recognize we need those commercial tools," he said, "And we need our cyber defenders to be well steeped in these practices."