GAO says Army procurement plans to replace aging helicopter fleet don't have credible cost estimates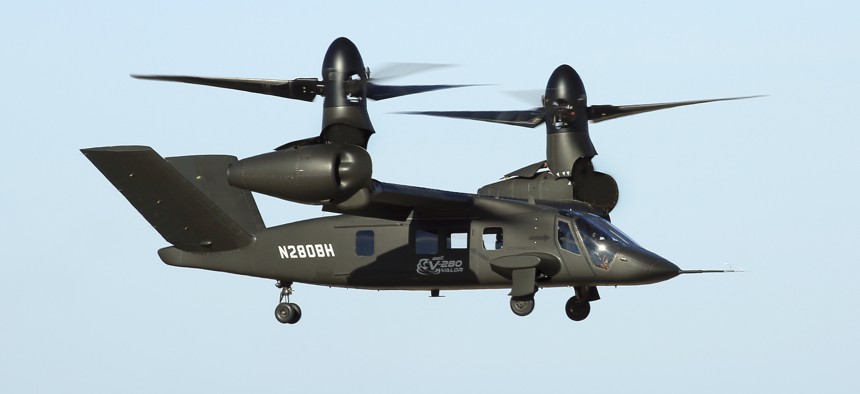 The U.S. Army failed to conduct technology risk assessments and other evaluations that test critical technologies before developing new aircraft systems intended to replace its aging fleet of helicopters, according to a new report. 
The Government Accountability Office report, published Monday, said the Army's plans to develop three new types of crewed and uncrewed aircraft systems have not met leading practices for maturing and assessing technologies. 
Those plans also failed to fully identify schedule risks that can disrupt the procurement process timeline and only "minimally met the threshold for a credible cost estimate," the report said.  
The Army developed the new plans to supplement and replace reconnaissance, heavy lift transport and other multi-role helicopters that have been in service for decades. The effort was included as a top priority in the military branch's 2019 Modernization Strategy, which called for an overhaul of the Army's equipment to meet modern warfare challenges. 
Congress tasked GAO with reviewing the Army's portfolio of aircraft capable of vertical take-off and landing, which primarily includes helicopters. The report noted how the Army has been working for decades to develop new capabilities for its fleet of helicopters, but said that "prior efforts were canceled due to cost increases, schedule delays and performance shortfalls."
Previous reports have pointed to longstanding challenges associated with the Army's procurement of new aircraft systems to support its Future Vertical Lift fleet. 
"Key to making the right decisions on the elements of the FVL portfolio is building sound business cases for each—that is, having robust estimates of what each will cost, and the risks associated with their respective schedules and technologies," the report said. "While the three FVL efforts followed DOD policy for their respective acquisition pathways, providing better information on their cost, schedule and technology to decision makers could lead to better outcomes."
A 2019 Center for Strategic and International Studies report said the Army was taking a novel approach to procuring the aircraft systems that departed from the traditional defense acquisition system, and raised questions about the long-term affordability and issues related to programmatic, sustainment and portfolio costs.
GAO offered seven recommendations, including that the Army implement leading practices to mitigate acquisition risks associated with the development of the new aircraft systems, including updating life cycle cost estimates, conducting technology risk assessments and demonstrating the systems' critical technologies in an operational environment by the start of system development. 
The Department of Defense concurred with all seven recommendations included in the GAO's report and said it was updating several of its procurement processes to better identify and analyze schedule risks. 
The DOD also noted that it was following agency policies associated with conducting technology risk assessments and was planning to conduct comprehensive evaluations in accordance with its governing policy.