Small business participation in federal marketplace continues decline despite $159 billion in awards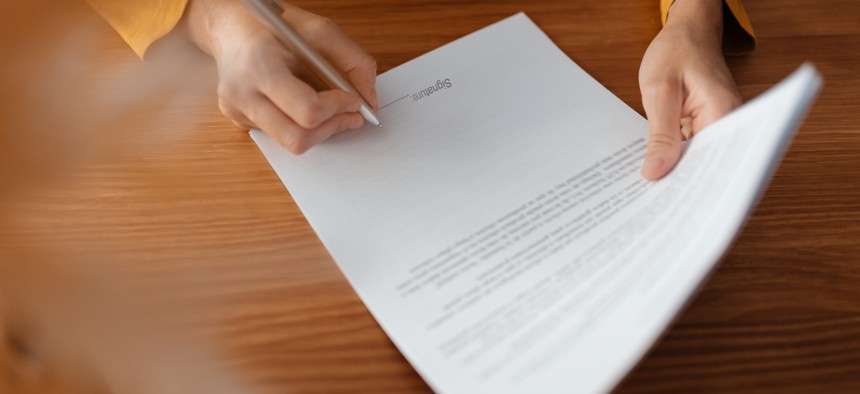 The number of small businesses receiving federal contracts continued a sharp and years-long decline in 2022 despite a record-breaking $159 billion awarded to small businesses throughout the year, according to a new report. 
The increasing popularity of "best-in-class" contracts and other vehicles that consolidate contracting opportunities hampered small business participation in the federal marketplace last year, the government contracting market intelligence platform HigherGov said in a report published on Monday. 
"Small businesses are critical engines of technological development in the United States," Justin Siken, founder of HigherGov, said in a statement. "As the number of small businesses participating in the federal market has shrunk dramatically over the past decade, the government increasingly risks losing access to emerging technology and ideas."
In total, just under 60,000 small businesses received federal contracts in fiscal year 2022. That's less than half the total number of small businesses that received contracts from the federal government in 2010, roughly 121,270. 
The report also suggested that expanding cybersecurity requirements, new regulations and a failure to effectively increase diversity among small business contract awards has contributed to the decline in small business participation in the federal marketplace. 
Though the total dollars awarded to women-owned, Black-owned and Hispanic-owned small businesses increased last year, President Joe Biden sought to expand the actual number of minority-owned small businesses participating in the federal marketplace through a series of executive orders and reforms.
Those contracting equity goals didn't take hold for fiscal year 2022, according to the research, which showed decreasing and stagnating total awards for minority-owned businesses. The number of women-owned small businesses that received prime contract awards in 2022 fell slightly from 16.9% to 16.4% of the total amount of awards obligated to small businesses. 
The report calls on Congress to further expand support and funding for programs like the Small Business Innovation Research/Small Business Technology Transfer, or SBIR/STTR, programs, which offer research grants to businesses with the goal of bringing new technologies to market. A proposed contract vehicle underway at the General Services Administration could bring more support by selling successful SBIR/STTR products governmentwide.
The report also calls on agencies to minimize contract bundling, expand small business outreach and improve the measurement of small business goals by incorporating diversity metrics into small business targets.