Lawmakers want GAO to assess risk of government contractors working for China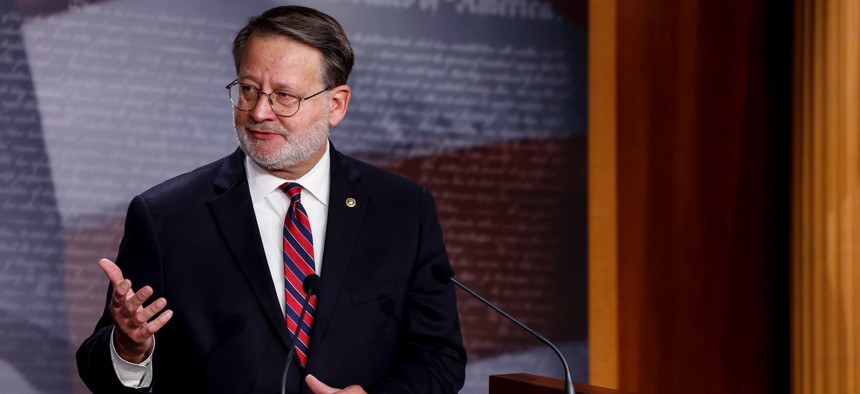 A top lawmaker on the Senate Homeland Security committee is calling for a probe into federal contracts involving private consulting companies that work for both the U.S. government and the Chinese government or state-run firms – and warning of the potential for major national security risks.
In a letter sent Tuesday afternoon, Sen. Gary Peters (D-Mich.), chairman of the Homeland Security and Governmental Affairs Committee, urged the Government Accountability Office to assess the risks posed when the Department of Defense and other federal agencies award contracts to firms that simultaneously provide services to Chinese-associated companies. 
The joint letter sent by Sens. Peters and Josh Hawley (R-Mo.) pointed to significant national security concerns as well as conflicts of interest, including consulting firms that work with both the U.S. and Chinese governments. 
In some cases, the letter cites consulting firms "building artificial islands to position missiles, fighters and bombers in the South China Sea, and participating in exercises for an amphibious assault on Taiwan."
The letter also pointed to concerns around information sharing within companies contracted by the U.S. government and Chinese-owned firms, suggesting the situation could result "in Chinese entities accessing or taking advantage of firms' access to U.S. government data, classified or otherwise."
The letter comes as the federal government is increasingly seeking to limit Beijing's involvement in U.S. contracting and technology services. Congress moved to ban China's popular social media platform TikTok from U.S. government devices late last year as part of the sweeping fiscal 2023 omnibus bill, and federal vendors are currently prohibited from using certain Chinese telecommunications devices.  
The letter also follows a bipartisan bill which Peters introduced that was signed into law in December, titled the Preventing Organizational Conflicts of Interest in Federal Acquisition Act. The bill aims to identify conflicts of interest early on in the federal contracting process by requiring firms to disclose their business relationships with certain entities. 
The lawmakers asked GAO to assess the risks posed by the Intelligence Community, DOD and federal agencies contracting with firms that also work for the Chinese government, including "deliberate or inadvertent" information sharing of U.S. government data that can be used for Chinese advantage. 
The letter also requests GAO identify contract clauses aimed at rooting out national security concerns and conflicts of interest, and to ensure agencies comply with those clauses.