GSA, DOE look to the private sector for green building tech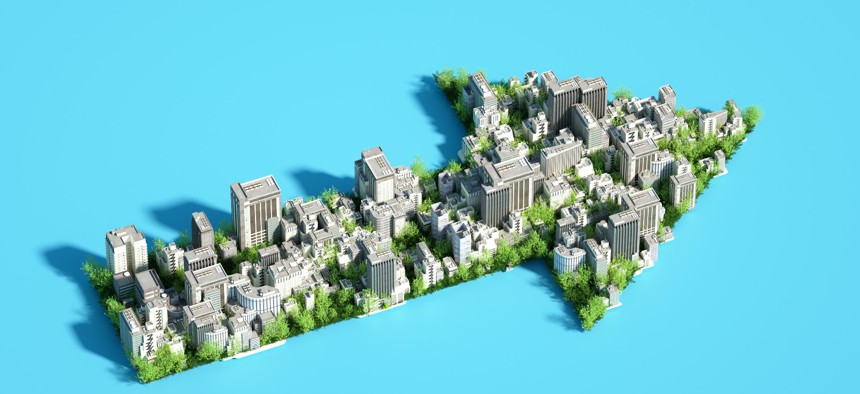 The federal government is seeking information on emerging technologies to help transition commercial buildings traditionally powered by fossil fuels to net-zero carbon emissions as part of its efforts to achieve economy-wide net zero emissions by 2050.
General Services Administration and the Department of Energy released a request for information on Oct. 5 seeking input from the private sector on innovative solutions, emerging technologies and equitable methods to reduce energy consumption and carbon emissions for all commercial buildings.
The RFI seeks information on how any proposed solutions can be applicable for wide-scale deployment across commercial buildings, and requests the proposed solutions to include integrated building controls, cybersecure components and emerging, innovative technologies to help power buildings across the country. 
GSA and DOE said the government is also interested in technologies that can provide solutions to retrofit buildings to minimize heat transfer and air leakage, as well as control software for building integration and other next-generation technologies to aid in carbon reduction efforts. 
The RFI follows a $3.3 billion investment in the Inflation Reduction Act for GSA to invest in Green solutions and sustainable technologies for federal buildings.
GSA and the Department of Defense released a joint RFI earlier this year seeking input from tech companies and utility firms about how the federal government can procure clean electricity and support real-time energy demands on a 24/7 basis. The RFI noted that the government currently maintains 300,000 federal buildings and a fleet of nearly 600,000 vehicles as it works to achieve 100% carbon-free electricity by 2030 — an objective outlined in the White House Federal Sustainability Plan.
"We're eager to hear from industry about the emerging technologies that can help build on GSA's success in greening our footprint and catalyzing innovation," GSA Administrator Robin Carnahan said in a press release. "The Inflation Reduction Act will provide even more opportunities for us to transform federal buildings into high-performing, high-tech testbeds for clean energy innovation." 
GSA and DOE are seeking feedback to the RFI until December 9, 2022 and will host a web-based information session on November 9.