Trade group warns of contractor workforce shortfall over vaccine mandate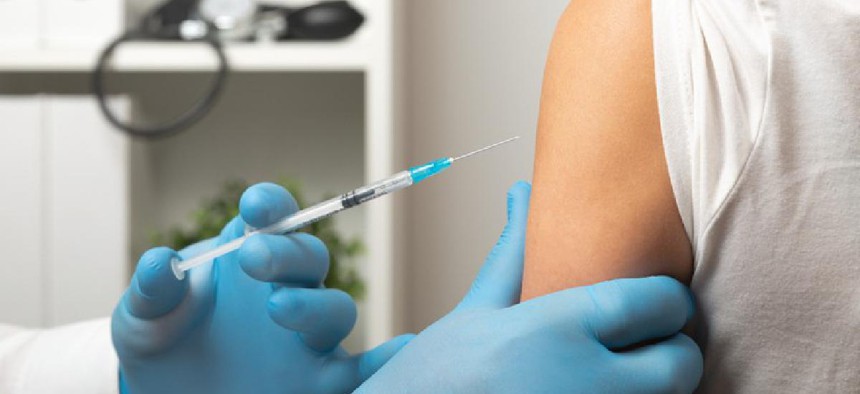 A Professional Services Council (PSC) committee has forecasted potential workforce issues and billions of dollars in lost IT spend as the White House battles legal challenges to enforce a vaccine mandate for federal contractors.
A team of industry leaders and government officials are warning of a potential workforce shortfall and billions of dollars lost in IT spend if workers don't comply with the administration's vaccine mandate for federal contractors.
The concerns were presented on Wednesday at PSC's Federal Market Forecast conference, where lawmakers, agency representatives and stakeholders share predictions and trends for the defense, civilian, and federal IT markets.
A Professional Services Council (PSC) committee responsible for the predictions prepared a five-year IT management and budget forecast showing relatively stable trends, with 2.3% year-over-year growth for civilian IT budgets and 1.9% year-over-year growth for defense through 2027. The administration's vaccine mandate was proving to be a "major IT and workforce wildcard," however, with the committee predicting as many as 219,000 workers may refuse to comply with a White House deadline for federal contractors to get their COVID-19 vaccinations by Jan. 4, 2022.
The administration's vaccine mandates faces numerous legal challenges after a federal judge in Kentucky temporarily blocked its enforcement in three states last week, ruling that the president cannot use his authority "to manage the federal procurement of goods and services to
impose vaccines on the employees of federal contractors and subcontractors." Other mandates affecting healthcare workplaces and businesses with more than 100 employees have been challenged and stalled in federal courts.
The deadline to comply with the mandate had already been extended from a previous date of Dec. 8, as a senior administration official told reporters the decision was made "to make it as easy as possible for businesses to implement these requirements and for workers to comply."
As many as 210,000 federal contractors and 9,000 IT workers may need to be backfilled if 10% of the workforce does not comply with the upcoming deadline, according to the PSC committee's forecast, which noted roughly 90% of workers were currently vaccinated. The fallout could also amount to $3.6 billion in potential cost impact for 2022 IT spending, including $1.1 billion in outside services and $2.5 billion in external labor costs, the forecast stated.
Meanwhile, Republican attorneys general across the country have filed their own lawsuits against the contractor vaccine mandate, including those in Arizona, Florida, Georgia, Missouri and Texas.
The PSC committee forecast also found additional federal workforce challenges spurred by the COVID-19 pandemic, including new work location flexibility issues and continued problems attracting young cyber talent and IT professionals.