DARPA's Pandemic Prevention Platform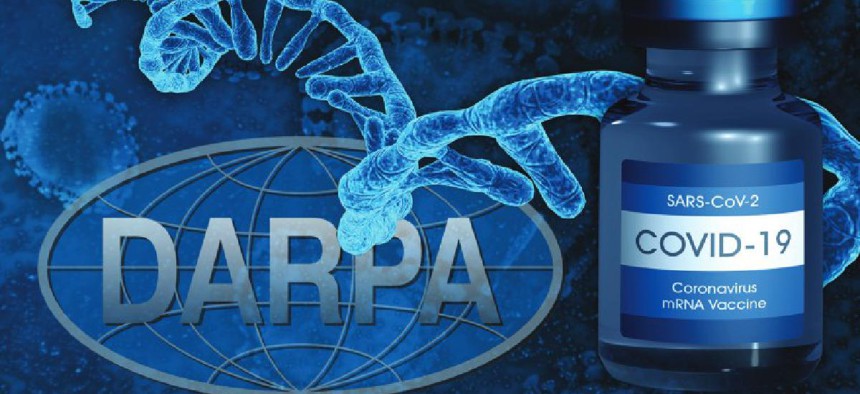 When the COVID-19 pandemic hit in early 2020, DARPA's 10 years of funding research and development on DNA and RNA vaccines, including a $25 million award to Moderna to help establish its messenger RNA platform, proved critical.
The President's Award differs others that are part of the Federal 100 awards. The Eagle Awards and the Fed 100s themselves are for individual achievements made in a single calendar year. This award can be given to a team or individual, and often recognizes work over a longer period of time that has finally come to fruition.
The Defense Advanced Research Projects Agency was designed for just that sort of innovation.
Created in 1958, DARPA's mission is to look ahead and invest in emerging technology for the military. As part of its goal to protect U.S. troops around the world from biological hazards or attacks, the agency has been funding work on DNA and RNA vaccines and antibody treatments since 2011. When the COVID-19 pandemic hit in early 2020, that decade of research and development proved critical.
In 2013, DARPA awarded $25 million to Moderna to help establish its messenger RNA platform. That work laid the foundation for the creation of the Biological Technologies Office in 2014 and the Pandemic Prevention Platform  (P3) in 2017. The goal of the P3 program was to develop a scalable, adaptable rapid response platform that could produce the needed new vaccines or antibody treatments within 60 days when a new threat emerged.
In response to the COVID outbreak, Amy Jenkins, the P3 program manager, responded quickly and made awards to four groups to use the newly developed technology to develop a vaccine for COVID-19, which was accomplished in record time and has saved countless lives.
Many other individuals and organizations contributed to this success: former DARPA program managers Dan Wattendorf and Matt Hepburn, along with Geoff Ling, the Biological Technologies Office director at that time, and former DARPA Directors Regina Dugan and Arati Prabhakar. In addition, a large interagency group that included officials from the Department of Health and Human Services and its Biomedical Advanced Research and Development Authority, the National Institutes of Health, and DOD's Joint Program Executive Office for Chemical, Biological, Radiological and Nuclear Defense, played an essential role.
But DARPA has been leading the effort for more than 10 years and its funding of potential vaccines and antibody treatments created the framework for the deployment of new vaccines in record time.
This article was changed Aug. 31 to correct the name of the P3 program. It is the Pandemic Prevention Platform, not the Pandemic Protection Program.