Sens. Ron Wyden, D-Ore., and Brian Schatz, D-Hawaii, joined major tech firms and internet activists in the Battle for the Net, an online protest of congressional efforts to roll back regulations governing net neutrality.
Both senators have spoken out against Republican legislation to reverse a 2015 amendment that prohibits internet service providers from prioritizing certain websites over others. On Wednesday, they coupled with Google, Facebook, Netflix and thousands of other groups, urging citizens to submit letters to the Federal Communications Commission expressing their support for a "free and open internet."
» Get the best federal technology news and ideas delivered right to your inbox. Sign up here.
As it stands, internet service providers must enable equal access to all online content, regardless of the source. Under Title II of the Communications Act of 1934, they cannot grant users faster speeds for certain sites while slowing speeds or blocking others. However, with the Internet Freedom Act, introduced by Sen. Mike Lee, R-Utah, and co-sponsored by 11 Senate Republicans, providers can start charging users and sites for faster online speeds.
On their website homepages, Wyden and Schatz display pop-ups with a rotating buffer wheel reading, "This is what the internet would look like without Net Neutrality." Below, they post links where readers can learn more about the issue.
Groups ranging from Airbnb to PornHub participated in the protest in various ways, from Twitter's sponsored hashtag to Reddit's disruptive homepage pop-up: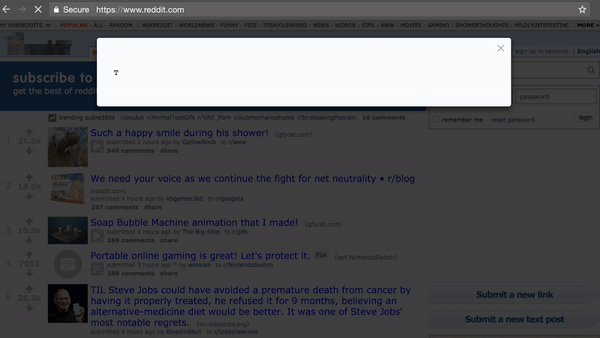 Vimeo pinned a video titled "Why we need net neutrality" to its front page, Google emailed a post to its public policy blog subscribers, and Netflix tweeted this suspenseful GIF:
This GIF will buffer until #NetNeutrality is safe. @HouseofCards pic.twitter.com/f42yA2LpkM

— Netflix US (@netflix) July 12, 2017
Campaigners said more than 100,000 sites, users and organizations, including tech giants Amazon, Facebook and Netflix have all expressed their support for the cause.
Those in favor of internet deregulation, like FCC Chairman Ajit Pai, argue that rolling back Title II regulations will make the broadband market more competitive, but opponents worry deregulation will stifle small businesses unable to afford high-speed premiums, and potentially open the door for censorship by the government and private corporations.
FCC voted in May to support the repeal bill, but gave the public a 90-day window to send in comments. Organizers chose to launch the Battle for the Net campaign Wednesday, five days before the initial comment period ends.
Timothy Karr, senior director of strategy at Free Press, which co-sponsored the campaign, told Nextgov that at press time, more than 6 million people had submitted comments to FCC, setting the agency's all-time record for public engagement. By the end of the day, he expects that number will have grown significantly.