House Oversight Committee probes GSA administrator's telework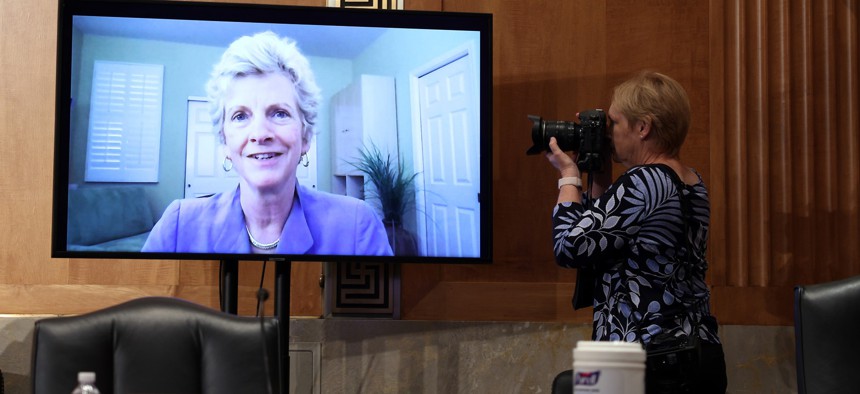 The chairman of the newly minted GOP-led House Committee on Oversight and Accountability wants to know where General Services Administration chief Robin Carnahan has been working while leading the agency.
Rep. James Comer (R-Ky.) sent a letter to Carnahan Wednesday informing her of "whistleblower reports" that allege the administrator has worked outside of the Washington, D.C. area for most of her nearly two-year tenure.
"We are writing to determine whether these reports are accurate, and if so, understand the reason behind routine absences and whether they are in compliance with relevant regulations," the letter said.
Comer's letter doesn't detail what specific allegations are levied in the whistleblower reports, but references past Republican inquiries into the government's return-to-work policies for federal employees following the pandemic.
A March 30, 2022, letter to Carnahan and Office of Personnel Management Director Kiran Ahuja from then-ranking members Comer and Jody Hice (R-Ga.) sought details about OPM's plans for hybrid work and questioned whether President Joe Biden's 2022 State of the Union claim that "a vast majority of federal workers will once again work in person" reflected what was really happening in the federal government.
It also comes as Comer also introduced a bill Wednesday that aims to prevent the Biden administration from permanently establishing pandemic-era telework policies. 
The Stopping Home Office Work's Unproductive Problems, or SHOW UP, Act states that no later than 30 days after enactment that agencies "shall reinstate and apply the telework policies, practices and levels" that were in effect on Dec. 31, 2019.
It also calls for agencies to conduct individual studies on "the impacts on the agency and its mission of expanding telework by its employees" and how telework has affected performance.  
OPM's 2021 telework guidance states that agencies can have "discretion to define types of arrangements and parameters for participation within their telework policies and telework agreements" as long as they are in accordance with the Telework Enhancement Act of 2010.
Comer's letter requests information on how many days Carnahan has been in D.C. since leading the agency, what teleworking arrangements she has with GSA, documents and communications regarding any telework, Carnahan's daily calendar and any travel reimbursements she may have received. 
GSA officials did not comment by press time when asked by FCW for a response to the Comer letter.