National Archives recovered more than 100 classified documents from Trump in January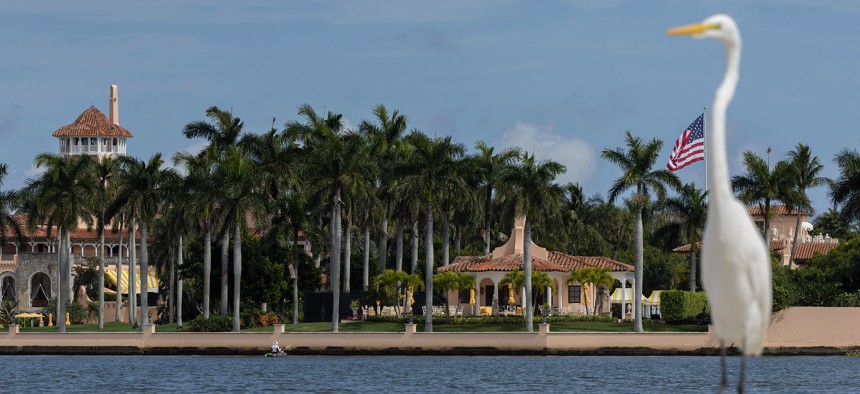 The more than 700 pages of classified material included documents relating to special access programs – some of the nation's most closely held secrets.
The National Archives recovered more than 700 pages of classified material from former President Donald Trump's Mar-a-Lago estate in January, according to a letter to a Trump attorney released by the agency on Aug. 23.
The letter, dated May 10, was sent to Trump attorney Evan Corcoran to explain the agency's position on Trump's claims to exert executive privilege over the further release of documents from Mar-a-Lago. 
The release of the letter, first published by a Trump ally, comes as legal wrangling around the FBI's Aug. 8 search of Mar-a-Lago continues. That search yielded 20 boxes of documents including four sets of classified material. According to press reports, federal law enforcement officials are interested in further materials controlled by Trump, including Mar-a-Lago security videos.
In the letter, Debra Wall, acting U.S. Archivist and agency head at the National Archives and Records Administration, quoted from a communication from the National Security Division of the Department of Justice to Trump's attorney from April that set out the intelligence community's concerns about the sensitive nature of the material secreted away by Trump to his South Florida compound.
"Some include the highest levels of classification, including Special Access Program (SAP) materials. Access to the materials is not only necessary for purposes of our ongoing criminal investigation, but the Executive Branch must also conduct an assessment of the potential damage resulting from the apparent manner in which these materials were stored and transported and take any necessary remedial steps," the NSD communication stated.
The likely sensitivity of materials retained by Trump was the subject of earlier press reports, but Wall's letter was the first confirmation of the existence of Special Access Program materials – highly secretive military secrets – in the trove of Mar-a-Lago documents. As noted in a May 2022 FCW story, SAP's aren't ordinary classified programs. A 2010 Defense Department document stated that SAP's "must be established and maintained only when absolutely necessary" and "to protect the nation's most sensitive" capabilities, information, operations, technologies, research and more. 
Wall also dismissed arguments from Trump's attorney that a former president could make claims of executive privilege that supersede the wishes of the current president.
"The question in this case is not a close one," Wall said in the letter.
The letter was first disclosed Monday night by conservative columnist John Solomon, who is serving as a Trump liaison to NARA.