Federal court dismisses union complaint about workplace 'resistance' talk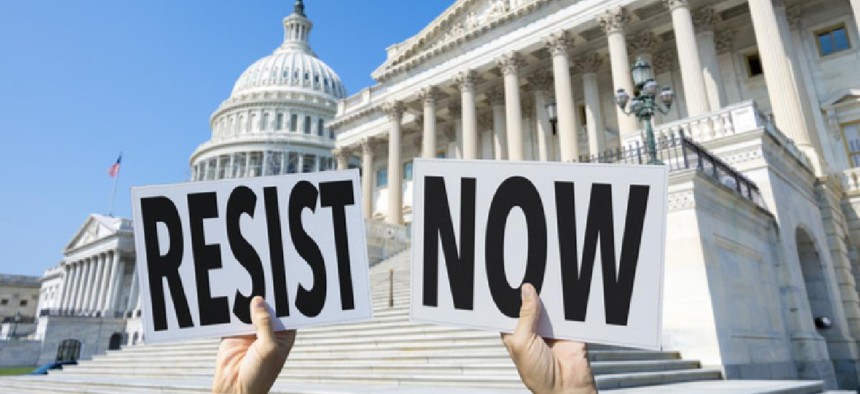 The American Federation of Government Employees had complained an Office of Special Counsel advisory was chilling federal employees' speech.
A federal court judge dismissed a federal employees' union complaint that an Office of Special Counsel advisory warning against some workplace speech related to President Trump's impeachment could be considered to violate the Hatch Act.
District Court Judge Paula Xinis ruled Aug. 3 that a lawsuit seeking an injunction against the OSC advisory was moot because the court lacks jurisdiction. Under law and precedent, the judge explained in her decision, the Merit Systems Protection Board has the authority to hear federal employee complaints about Hatch Act violations. The court concluded that the "plaintiffs will suffer no real hardship if this Court declines to adjudicate their claims."
The case dates back to an Nov. 30, 2018, advisory opinion from OSC stating that, "[b]ased upon how '#resist,' 'the Resistance,' and other terms have been adopted as slogans by political parties and partisan political groups, OSC advised that employees may violate the Hatch Act by using or displaying in isolation '#resist' or 'the Resistance' while on duty or in the workplace."
A lawsuit was brought in August 2019 by the American Federation of Government Employees and AFGE's local 2578 on behalf of two employees of the National Archives and Records Administration who said their speech had been "chilled" by the policy. In January 2020, the plaintiffs filed an emergency motion seeking to overturn the OSC advisory as Trump's impeachment trial was pending in the Senate.
"By statute, OSC has a robust advisory function and is frequently asked to clarify what is considered political activity under the Hatch Act," Special Counsel Henry J. Kerner said in an Aug. 5 statement. "By dismissing this lawsuit, the Court preserves OSC's important advisory role. This is a good outcome, and I appreciate the Court's thoughtful opinion."
The union hasn't yet decided on an appeal but indicated it will have more to say on the ruling.
"We are still evaluating the court's opinion and our options but the decision is an obvious disappointment," AFGE National President Everett Kelley said in an emailed statement. "The court's opinion does not give sufficient consideration to the profound chilling effect that OSC's guidance has on the First Amendment rights of federal employees."