Shutdown's far-reaching effects could extend skyward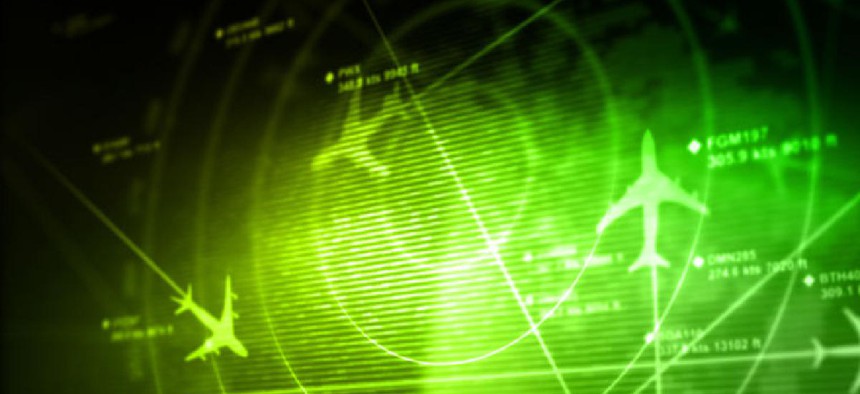 The shutdown is taking a toll on essential federal programs, including air traffic control and safety.
As federal employees will miss their first full paycheck, the prolonged shutdown may have far-reaching security effects, beyond even the employees on the ground and into the sky.
Sens. Mark Warner (D-Va.) and Tim Kaine (D-Va.) hosted a roundtable in Alexandria, Va., on Jan. 11 to hear from furloughed and excepted federal employees about the effects of the shutdown, including potential impacts on safety. Federal employees said important programs that were languishing as a result of the shutdown.
Warner said, in the future, whether Congress should step in and evaluate at determinations of who is deemed essential and nonessential in a government "is a legitimate question."
Paul Rinaldi, president of the National Air Traffic Controllers Association, said many air traffic controllers are working overtime "to keep the system up and running, and getting paid nothing," while others have been furloughed.
"There are critical programs that are not being done at this point," he said. "Whether it's implementing new safety technology, whether it's training on new procedures."
Rinaldi said the updates on the NextGen project, a massive air traffic control modernization program costing more than $30 billion in total, "has basically come to a complete stop."
Another technology designed to help planes detect where they're supposed to land at airports that was in the process of being deployed has also stopped, Rinaldi said, and the shutdown will cause a "massive delay" in the rollout of new technologies.
"When we stop these programs, it takes two weeks to stop, two to three weeks to scale down, and then it takes a month-and-a-half to get it up and back and going, provided the people are still around to do that," Rinaldi said.
"I don't know how the agency can determine these critical safety programs we're putting in place [are] not essential at this point," he said.
From a personnel standpoint, Rinaldi said the agency supports around 10,500 air traffic controllers, a 30-year low, and that 1,900 of those are eligible to retire.
"And if they keep going pay period after pay period with zero paychecks after working a 60-hour work week, they're going to retire," he said, adding that morale is "dropping quickly."
He also said the hiring process has stopped and that some 2,000 air traffic controllers who would otherwise be in training have been sent home during the shutdown.
Aviation safety specialists, like Air Force veteran and current Federal Aviation Administration Inspector Dan Ronneberg, have also raised concerns about safety.
"We ensure the airplanes that are out there are safe, that everybody can travel, and you don't have to worry about it," Ronneberg said. "One of the things sitting on my desk right before I left was I got a request from the Department of Defense to authorize civilian helicopter operators in Iraq. That's sitting on my desk, and those helicopter operators are not operating."
The House voted to send the Senate bill to ensure federal employees receive back pay for hours missed during the shutdown, but Warner said that bill alone doesn't go far enough.
"It's a good start," he said. "But this does not make everyone whole.... We've got to do all we can to make sure never again does this happen."
He lamented that the bill does not cover lost payments for contractors and any financial troubles incurred by feds who may have missed a payment or withdrawn from retirement accounts.
Looking ahead, Kaine added the coming days could determine whether Senate Majority Leader Mitch McConnell (R-Ky.) will bring funding bills to the floor thereby indicating how long the shutdown will last -- and how deep its impacts could get.
"Next week will be pivotal," he said.