Zielinski to take over as GSA's top IT buyer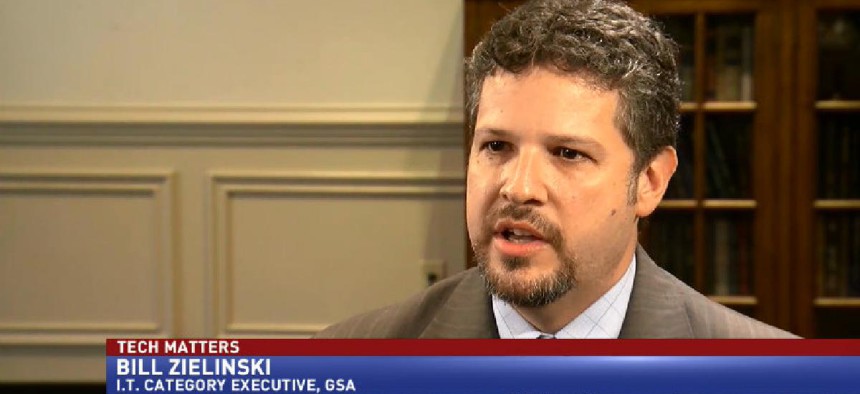 With Kay Ely's coming departure, longtime federal IT presence Bill Zielinski is taking over as assistant commissioner of the IT category at the Federal Acquisition Service.
Bill Zielinski shown here in an interview from the 2016 Executive Leadership Council meeting. (Photo courtesy: Government Matters)
As expected by federal IT watchers, Bill Zielinski will take over as the General Services Administration's assistant commissioner of the IT category at the Federal Acquisition Service on an acting basis when his boss Kay Ely moves to a new role.
According to an internal email obtained by FCW, Zielinski will take over the new role at the start of October, when Ely begins work on a new task force designed to facilitate the integration of some of the operations of the Office of Personnel Management into the General Services Administration.
As deputy assistant commissioner for the IT category, Zielinski has a senior policy role in setting strategy for $54 billion in agency tech spending, and has worked on the Trump administration's IT modernization plan. Zielinski won Federal 100 honors from FCW in 2018 for his work on multiple modernization fronts.
"Bill has some big shoes to fill and I'm confident in his ability to carry on the great work Kay accomplished in her time here," FAS Commissioner Alan Thomas said in an Aug. 16 email to staff.
Zielinski previously served as CIO of the Social Security Administration.
Also in FAS personnel news, David Zvenyach is departing. The former acting 18F executive director had been serving as a technical advisor to Thomas and before that was assistant commissioner of the Office of Systems Management at FAS. Judith Zawatsky took on the job of acting assistant commissioner when Zvenyach was detailed to advise Thomas, and will continue in that role.
FCW senior staff writer Mark Rockwell contributed reporting to this article.